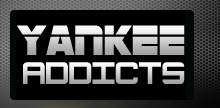 May 26, 2009 · Heartbeat Of The Bronx · Jump to comments
Article Source: Bleacher Report - New York Yankees
The New York Yankees beat the Texas Rangers on Monday afternoon, and Alex Rodriguez did something he had not done in a very long time.
A-Rod generated a multi-hit game for just the second time in 17 games, going 5-for-5 while driving in four runs.
However, it was something that A-Rod didn't do that should have the baseball world stirring this morning.
His five hits including three singles and two doubles, without any balls landing beyond Arlington's tiny walls.
Perhaps A-Rod just did not want to provide a souvenir for a fan base sending more "boos" his way than a haunted house attraction during Halloween.
Either way, he was able to raise his average 70 points in just one day, moving from anemia to respectability in just five swings.
We all know that A-Rod still has power, as some of his seven early home runs have yet to return from orbiting the Earth.
Hitting a home run on the first pitch he saw following extensive hip rehabilitation was enough evidence that mistakes will be punished—especially those located on the inner half of the plate.
A-Rod proved that he is no longer a one-dimensional weapon in the batter's box, and pitchers now need to worry about more than watching him walk to first or job around the bases.
Rodriguez hit fastballs, breaking balls, change-ups, high pitches, low pitches, inside and out. He shots the gaps, yet was also able to drive the ball through the middle of the infield.
For the first time in 2009, Rodriguez's balance at the plate rivaled Olympic gold medalist Shawn Johnson on the beam in Beijing.
Previously, he appeared more like a baby attempting to take his or her first steps, or a drunk collegiate encountering an unexpected patch of black ice.
The Yankees finally have a middle of the order that provokes nightmares, as A-Rod and partner in crime Mark Teixeira have heated up simultaneously—is anyone surprised?
Teixeira has collected five straight multi-hit games, raising his average to .273. Even after a putrid beginning, he is currently on pace for 49 HR, 136 RBI, and 117 R.
A-Rod's multifaceted impact on the Yankees lineup has resulted in a 13-4 record since his return. He has been every bit as important as fans had hoped, and he has sparked a return of success to the Bronx.
The key to the lineup moving forward will be figuring out who will drive in Teixeira and A-Rod once they reach base.
Robinson Cano and Melky Cabrera have done solid jobs thus far, but the health of Jorge Posada or Xavier Nady will allow for a more consistent power threat from the five hole in the batting order.
There are numerous holes to be filled on the Yankees roster, including figuring out the bullpen woes that worsened with the continued discomfort in Brian Bruney's elbow.
The team still stands at 26-19, however, just one game behind Boston and two and a half games up in the AL Wild Card landscape.
A-Rod is beginning to once again become a force on the baseball diamond in 2009, and is just one hot streak away from boasting statistics worthy of an All-Star selection—even after missing the season's first six weeks.
Rodriguez has also begun to absorb the looseness and youthful enthusiasm on the Yankee clubhouse, as cameras have even caught a multitude of smiles on his face.
He is no longer a distant and alienated "A-Droid," and may finally be able to relax when pressure begins to crescendo.
Yankees Universe is beginning to develop a swagger and expectation for positive outcomes, as opposed to waiting impatiently for what will go wrong next.
As Toronto and Tampa have faded back to normalcy, it appears as though yet another Yankees-Red Sox battle is beginning to unfold in the AL East.
Stayed tuned, it could be a very interesting summer.
Also Seen At: Heartbeat of the Bronx