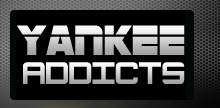 May 5, 2009 · Rob Abruzzese · Jump to comments
Article Source: Bleacher Report - New York Yankees
According to Bryan Hoch of MLB.com, Alex Rodriguez, who is sitting out since an early March hip surgery to repair a torn labrum, could be back in the Yankee lineup as early as this Friday.
Yankees manager Joe Girardi said that it was possible Rodriguez could rejoin the club on Friday, when the Yankees open a three-game series against the Orioles in Baltimore.

"So much of it just depends on how he feels and when he believes he's ready to go," Girardi said. "I have not really put a date on it, because I want to see how he bounces back. It's up to him. When he feels that he's ready, we're probably going to take him back."
So far, A-Rod's rehab has gone smoothly. He's had plenty of at bats and has even played the field and ran the bases. Although, so far, he's had no serious tests because he hasn't had to slide or, from reported accounts, not had to make a play in the field.
With Jorge Posada's bat possibly out of the lineup Friday can't come soon enough. The Yankees are third in the majors in runs scored, but once they lose Posada that will drop off. So if A-Rod can come back to the Bronx and make an impression right away the Yankees won't miss much of a beat.
If A-Rod gets off to a slow start and Mark Teixeira continues his poor hitting, although he reached base four times last night, the Yankees could be in for a bit of trouble. Their pitching has been very poor and it's all their offense can do to keep them in games.
Angel Berroa, Cody Ransom, and Ramiro Pena haven't exactly been a strong replacement. There have been multiple errors in the field and they are batting for a combined .217. The most recent replacement, Pena, has done better than the other two, but he is still a far cry from the numbers A-Rod brings.
Let's hope that A-Rod's difference over them makes up for the offense they lose when Jose Molina replaces Posada.