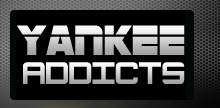 January 31, 2012 · Ken DeJohn · Jump to comments
Article Source: Bleacher Report - New York Yankees
The Yankees had a very good season in 2011, despite their patchwork rotation and down years from their usually consistent stars.
With a 97-65 record, they finished tops in the American League, but were still unable to defeat the strong pitching of the Detroit Tigers in the division series. In the end, the problem turned out to be a lack of clutch hitting, rather than the weak pitching that many thought would be their downfall.
The Yankees, on paper, have improved heading into the 2012 season. The trade that sent Jesus Montero and Hector Noesi to Seattle for Michael Pineda and Jose Campos will be good for the rotation in both the short and long term. The signing of Hiroki Kuroda acts as the perfect cushion so Manny Banuelos and Dellin Betances can get a bit more seasoning in the minors.
The only hole left unfilled is the designated hitter slot. Having Andruw Jones and Jorge Vazquez DH may be a possibility, but don't be surprised if the Yankees go out and sign someone on the cheap, i.e. Johnny Damon, Raul Ibanez or Hideki Matsui.
Even with the new rotation upgrades, the Yankees need improvement from some of their current stars. Many Yankees experienced tough times last season and the only shot at winning the World Series in 2012 is if they can bring it together and play up to their full potential.