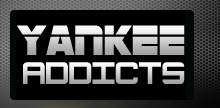 September 30, 2011 · Joseph Kuchie · Jump to comments
Article Source: Bleacher Report - New York Yankees
Mother Nature was not on baseball's side in New York Friday night, as Game 1 of the ALDS between the New York Yankees and Detroit Tigers was postponed in the second inning.
The potential marquee matchup between CC Sabathia and Justin Verlander was put on hold with the game tied 1-1, forcing New York and Detroit to continue the game on Saturday.
The rain puts a damper on both the Yankees and Tigers pitching rotations, and both Joe Girardi and Jim Leyland have made changes to who will pitch which games.
According to the ESPN.com, the pitching matchups for the remainder of the ALDS are as follows:
Game 1 (Saturday continuation) Ivan Nova (NYY) vs. Doug Fister (DET)
Game 2 (Sunday): Freddy Garcia (NYY) vs. Max Scherzer (DET)
Game 3 (Monday): TBD
Although Game 3 is up in the air, ESPN's David Schoenfield predicts that CC Sabathia and Justin Verlander will take the mound Monday. Following the changes, the Yankees have the upper hand in this ALDS matchup.
First off, the Yankees will still be able to throw Ivan Nova at home—but this time in a Game 1 situation. Nova, who will be making his first career playoff start, will feel less pressure with the series tied 0-0 and the home fans behind him.The pressure of being a rookie in the playoffs is hard enough, let alone being down 1-0 in a series.
Freddy Garcia's stock also rose after the rain out, as he will now get to face Max Scherzer at home rather than on the road. In one game against the Tigers in Detroit this year, Garcia gave up four runs in seven innings. However, the story will be how Max Scherzer pitches in the Bronx.
Scherzer posted a 5.23 ERA on the road this season, compared to his 3.80 ERA at home. It seems obvious that the Tigers put him in the Game 3 spot thinking he would get to pitch in Detroit, but the rain is forcing him to pitch in Yankee Stadium. In one game in New York this season, Scherzer gave up six runs on nine hits in five innings (10.80 ERA).
If the Yankees are up 2-0 after two games in the Bronx, they wouldn't be forced to throw Sabathia after pitching before the rain out. They could hand the ball to A.J. Burnett who, despite having another bad year, actually pitched well against the Tigers in Detroit.
In one start at Comerica Park, Burnett only gave up two earned over seven innings and struck out five. He was 1-1 with a 3.75 ERA against Detroit in total.
Burnett would likely face Verlander in a Tigers must win situation, which would leave Sabathia to pitch Game 4 against either Brad Penny or Doug Fister on three days rest.
Many are calling this series unpredictable, but the rain may have given the Yankees the upper hand going into Saturday's continuation game.
Read more New York Yankees news on BleacherReport.com