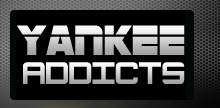 October 12, 2010 · Ben Griffy · Jump to comments
Article Source: Bleacher Report - New York Yankees
If anyone was surprised at Cliff Lee's performance in today's ALDS conclusion, they haven't watched enough baseball to call themselves fans.
If this postseason has made one thing perfectly evident, it is that a true ace in the postseason is worth many times his weight in gold. What's more astonishing is how accurately one may predict the outcome of a series, especially a short series like the divisional round, simply by assessing the caliber of a team's ace.
In 2010, the four consensus best ace pitchers were: Roy Halladay, Tim Lincecum, Lee and C.C. Sabathia. What four teams did they pitch for? The Philadelphia Phillies, the San Francisco Giants, the Texas Rangers and the New York Yankees. Which four teams advanced to the championship series? You guessed it, those same teams.
They simply aren't the same as other pitchers in baseball.
The value of these type of aces cannot be overstated. They will give you consistently above average innings, often lasting into the eighth or ninth. This is what most separates them from pitchers like Francisco Liriano and Tim Hudson; they don't leave a victory up to chance. If they start a game, they have a good chance of finishing it and disallowing the bullpen a chance to implode.
Regular season records are a good indication of how a team might play in 162 games, but a postseason is a race against time. Take the 2001 season, for example: the Seattle Mariners played baseball to the tune of a 116-46 record, but had to face Roger Clemens and Mike Mussina, two pitchers contending for a Cy Young, in the ALCS. Looking at the composite box score shows the power of outstanding pitching: the Yankees outscored the Mariners 17-12 in the first six innings of the series, leading to a 4-1 Yankee victory. The same then happened to the Yankees, as they faced Randy Johnson and Curt Schilling.
Expect the same in each league's championship series.
Building for the regular season and building for the postseason are two dramatically different ballgames. While the Rays were probably the most complete team this season, with power up and down their lineup, and four above average starters, they were beaten twice by Cliff Lee in one series. After that, the Rangers only needed to win one more game in three to assure themselves a bid in the ALCS.
Future teams should take heed of the Rays and reconsider their rotations.
Read more New York Yankees news on BleacherReport.com