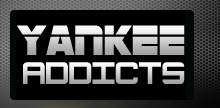 October 14, 2010 · Lake Cruise · Jump to comments
Article Source: Bleacher Report - New York Yankees
Acclaimed actor Sidney Poitier starred with Spencer Tracy and Katharine Hepburn in the hit movie Guess Who's Coming to Dinner.
Guess which team will show up hungrier in this year's American League Championship Series?
The actors in this year's Major League Baseball saga may not win any Oscars or Golden Globes, but they have a chance to have their names etched in eternity as stars and winners nonetheless.
Starring for the defending World Series champion New York Yankees will be Joe Girardi, with co-stars Robinson Cano, Curtis Granderson, C.C. Sabathia and Derek Jeter.
Statistics aside, the Yankees may have the best batting lineup since the 1934 St. Louis Cardinals—the Gas House Gang.
The Gang featured five .300 hitters, including mammoth slugger Ripper Collins.
Which hitter will rip the opposing pitching staff apart? I predict it will be Josh Hamilton.
Playing the lead role for the Texas Rangers will be their once-beleaguered manager Ron Washington. His supporting cast includes Josh Hamilton, Nelson Cruz, Michael Young, David Murphy, Ian Kinsler, Vladimir Guerrero and Cliff Lee.
The Rangers are no slobs themselves when it comes to hitting.
The first African-American manager in the 49-year history of the Texas Rangers, "Wash" is on the cusp of becoming the first black manager to hit the AL pennant lotto since 1993.
Clarence "Cito" Gaston was the last to do it.
Born in San Antonio and raised in Corpus Christi, Texas, Gaston was also the first African-American to win the World Series (1992).
He was also once with the Atlanta Braves, and roommates with "Hammering" Hank Aaron.
Gaston has been quoted as saying that Mr. Aaron taught him "how to be a man, how to stand on my own."
Wash stood on his own for a little while during the 2010 MLB preseason, when he admitted to cocaine use.
But team president Nolan Ryan provided his manager with some much needed company by predicting a 95-win season.
"We will win," the former flame-throwing pitcher declared.
Now a part-owner of the Rangers, Ryan almost hit a bulls-eye with his bold prediction.
His team finished the regular season at 90-72, and won the AL West division by nine games.
This will be Wash's first appearance as a manager in the ALCS, and Texas' fourth postseason run ever. The franchise has only won four playoff games entering into this year's pennant series.
Needless to say, this will be the first time the Rangers have played in baseball's version of the Final Four.
Their lone playoff victory before beating Tampa Bay 3-2 in a five-game series came in Game 1 of the ALDS against the New York Yankees.
The Yankees have pummeled the Rangers in every one of their four postseason series.
Which team is hungrier? It seems to me that they both are ready to gorge on equal amounts of home runs and extra base hits.
What will separate these two offensive juggernauts is pitching.
Enter stage right Mr. Lee.
The Yankees wanted to acquire him from the Seattle Mariners, but Ryan was widely viewed as winning a victory over the vaunted Yankee front office in sealing the deal.
The Rangers have dealt with 23 different managers in their history, and the only other one to guide them to the playoffs was the late Johnny Oates.
As a result, he was named the 1996 Co-American League Manager of the Year.
Joe Torre of the Yankees shared the award with Oates.
Oates and current Baltimore Orioles manager, Buck Showalter, were very close friends. The Rangers retired Oates' uniform number 26 in 2005.
Washington replaced Showalter as manager of the Rangers in 2007.
Showalter sported jersey number 26 as an Oriole this season in honor of Oates.
Washington had a mediocre career as a former shortstop and second baseman with the Los Angeles Dodgers, the Minnesota Twins, the Baltimore Orioles, the Cleveland Indians, and the Houston Astros.
His main claim to fame was breaking up Odell Jones' May 28, 1988 no-hitter with one out in the ninth inning.
Washington was sent in to pinch-hit for Jay Bell, batting ninth.
After he hung up his cleats for good in 1989, his former Astros manager, Art Howe hired him as the A's first base coach in 1996.
He was then promoted to third base and infield coach, and he served in that role from 1997-2006.
His players adored him to the point of handing him some of their official MLB accolades.
Washington helped to develop six-time Gold Glove recipient Eric Chavez, and shortstop Miguel Tejada. Chavez gave Washington a Gold Glove trophy, signed "Wash, not without you."
That sentiment was shared by Ranger's general manager Jon Daniels after the Game 5 win against Tampa Bay.
"Manager of the Year, right here boys," Daniels proclaimed to reporters in the ALDS celebratory club house.
Hero Cliff Lee won't pitch until Game 3 in the ALDS, and hopefully in Game 7 for the Rangers.
Ron Washington and current Yankee first baseman Mark Teixeira had a rift over their different approaches to batting.
Teixeira was traded three months later to the Atlanta Braves in July 2007, but he was reportedly being shopped before the rift.
I believe the Rangers pitchers will send a text message to their former star.
It could read something like: "Tex, without you."
I predict the so-called "Evil Empire" will fall in seven games to the Rangers, and that Ron Washington will be named 2010 AL Manager of the Year.
His boldest move was perhaps slotting SS Elvis Andrus in the lead-off spot. Wash's base-running aggression against the Rays helped to get his team to this point.
Considered plodders on the base paths, New York may play possum in the running department.
The Yankees may have played possum to finish second to the Rays, but possum is a delicacy in certain parts of Texas—so I hear.
The Rangers swept the Yankees in September.
Texas will clean the New York house with an ALDS triumph in seven games.
Read more New York Yankees news on BleacherReport.com