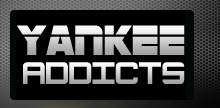 October 19, 2010 · Ryan Lazo · Jump to comments
Article Source: Bleacher Report - New York Yankees
A.J. Burnett has the fate of the New York Yankees in his enigmatic hands when he takes the hill tonight in the Bronx.
However, this time he may accomplish what he sets out to do.
Burnett is not your ordinary pitcher. He possesses above average pitches for everything he throws, especially his fastball-curveball combination. Scouts would genuinely tell you that Burnett has the best curve in the majors, which is a testament to his raw ability.
However, it is very tough to talk about someone's "raw ability" when they are on the wrong side of 30 years of age. In fact, this has been the memo on Burnett since his early days with the Florida Marlins.
Burnett is one of the handful of pitchers in Major League history to have thrown a no-hitter. However, his act of history contains a little asterisk on the side, which either demeans what he accomplished or makes it an even rarer feat.
His pitching line from the no-hitter reads as follows: nine innings, nine walks and seven strikeouts. That's right—he walked nine hitters yet allowed no runs and no hits. It is quite an amazing feat the likes of which we will probably never witness again in history.
If Burnett was able to accomplish that rare feat, who is to say he can't follow Andy Pettitte's lead and shut down the potent Texas Rangers offense? He obviously has the vote of confidence from his manager Joe Girardi and pitching coach Dave Eiland.
In fact, there is reason to believe the decision to start Burnett in this pivotal Game 4 was discussed by most Yankees higher-ups, including general manager Brian Cashman, who is the man responsible for lavishing Burnett with such a nice contract.
Yankees fans need to remember that this is not the first time Burnett is pitching in a scenario where they faced a must win. They need to look back to last year's World Series when Burnett was the Game 2 starter.
After the Yankees were thoroughly dominated by yes, Cliff Lee, Burnett had to save the Yankees from losing the first two games of the series in their own home ballpark. The good A.J. showed up that night, as he confounded the Phillies hitters with his moving fastball and late-breaking curveball.
His start was arguably the most important start of the series by a Yankees starter besides Pettitte.
If Burnett can reach within himself and pitch to that level again tonight, Yankees fans will sing his praises for keeping their season on track by helping to eliminate the Rangers.
Read more New York Yankees news on BleacherReport.com