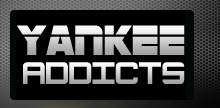 October 19, 2010 · JW Nix · Jump to comments
Article Source: Bleacher Report - New York Yankees
In 1996, a snot-nosed brat named Jeffrey Mair reached his hand into the field of play during the American League Championship Series. He grabbed a ball destined to be caught by Baltimore Orioles outfielder Tony Tarasco, thus allowing it to be called a home run hit by Derek Jeter because right field umpire Rich Garcia was out of position and uncertain of what exactly happened.
Instead of being ejected from Yankee Stadium, or vilified by the press, he was called a hero. Soon he was on televised talk shows and being given seats behind the Yankees dugout. The mayor even gave him a key to the city, telling the youth of New York City that cheating was heroic, acceptable, and rewarding.
The Yankees have spent most of the 2010 ALCS getting their butts kicked by the Texas Rangers. If not for a bullpen meltdown for an inning in Game One, the Rangers would have closed the series with a sweep tonight after their 10-3 win.
The Yankees and their fans are only like by them, but they are still respected because the team has won more World Series titles than any other team. Fans feel entitled by all this success, so actions considered barbaric by the rest of civilization are deemed acceptable by them.
In the second inning of Game Four, New York's Robinson Cano popped a lazy fly ball in right field. In the bandbox known as the new Yankee Stadium, lazy fly balls often reach the wall. This was the case of Cano's pop up. Rangers right fielder Nelson Cruz easily got to the wall in plenty of time, then timed his jump.
He encountered the ghost of Mair, because a group of idiotic fans figured they were Patrick Ewing and decided to block Cruz from having a shot at the ball. Again, the right field umpire was out of position, but now Major League Baseball has reply.
A replay that clearly showed interference, but it did not matter because the umpire's ruling made the use of replay is not allowed on such judgement call for some reason. Though replay is still being fine tuned by baseball, this play has given them an obvious impetus to refine this rule.
Now with Texas on the verge of knocking out a Yankees team most predicted to win it all, the Rangers need to realize they are still stuck in the Big Apple. A rotten apple of enabling media urging on fans to cheat for their team to keep tradition alive.
A tradition seen on National TV the past two games where 80 percent of Yankees Stadium was empty well before the game ended because these famous fans show themselves to be more fair-weathered than loyal. Leaving the field early cheats the team, but that seems to be the new Yankee Way thanks to their hero Jeffrey Mair.
Read more New York Yankees news on BleacherReport.com