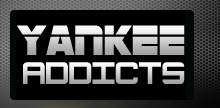 October 11, 2010 · Lucas Weick · Jump to comments
Article Source: Bleacher Report - New York Yankees
For the second year in a row, the New York Yankees swept aside the Minnesota Twins in the first round of the playoffs and are once again headed back to the ALCS.
Many questions surrounded the Yankees as they entered the postseason for only the 14th time in 15 years, but it is safe to say now that the Bombers are a legitimate threat.
Being the Wild Card team, everybody wondered if they could win without home field advantage? Well, they can, and did, overcoming two leads by the Twins and rallied behind starters CC Sabathia and Andy Pettitte to win the first two games of the series at Target Field. Or much simply put: they came, they saw, they conquered.
Phil Hughes making his first postseason start in game 3 was the next big question, would he be able to bounce back from a rather ugly 2009 postseason campaign where he gave up six runs in just six innings pitched? He too, answered the call and fired seven strong innings, allowing only four hits and no runs, and thus completing the sweep and moving the Yankees one step closer to their goal at the beginning of every season.
The Yankees made it clear to everybody that they are for real once again this October and any questions of their starting pitching have been answered after several strong pitching performances.
Realistically they could have the best starting rotation in the playoffs right now, that is if they continue with their three man rotation, which they most certainly should.
CC Sabathia, surprisingly, had the worst start between the three starters, allowing four runs on five hits through six innings.
Not enough can be said about how Andy Pettitte, at age 38, came out and shut down the Twins offense in game two, giving up just two runs on five hits over seven solid innings, earning his unprecedented 19th postseason victory in his career.
You already know about Phil Hughes and how he dominated in the clinching game three, so the Yankees top three starters are looking pretty scary and are certainly the best in the American League right now.
If you combine the rotation with the always dangerous offense, along with the best relief pitcher in the history of the game who only gets better in October, Mariano Rivera, and added rest before the ALCS, the Bronx Bombers are looking sharp as they continue their quest for title number 28.
Read more New York Yankees news on BleacherReport.com