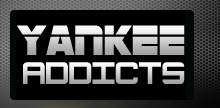 May 12, 2009 · Heartbeat Of The Bronx · Jump to comments
Article Source: Bleacher Report - New York Yankees
Yankees starter A.J. "Don't call me Carol" Burnett credits the Jays' Roy Halladay for completely altering his pitching style.
Halladay's tutelage has ultimately refined Burnett's consistency, as well as allowed him to be placed on the "dominant list" more times than the disabled list.
The implementation of a sharp two-seam fastball and a conservation of velocity have taken Burnett's pitching prowess to levels much closer to his mountain-high potential.
Burnett will now be forced to face his savvy teacher and many former teammates, while also pitching in the "dome he called home" for three years of his career.
In many master-pupil battles, such as the father and son dynamic, the pupil ultimately overcomes the master when he is far past his athletic prime.
The day that a son embarrasses his father in one-on-one basketball, or snaps off a curveball too nasty for his old hands to handle, is both a proud and degrading moment in the dad's life.
It is bad enough that he is going through a mid-life crisis, but now his son has officially evolved from the primordial soup into a far superior physical machine.
Dr. Frankenstein has created a monster that he no longer can control.
The only recourse is to now live vicariously through the son, suddenly arrogant that his seed and teachings have created such a phenom.
Unfortunately for Burnett, however, he must face Halladay near the peak of his physical existence. He is on pace for an illogical 29 wins this season and currently stands at 6-1 with a 3.29 ERA.
It is ironic that Halladay sports the "Doc" moniker, as he has taught Burnett everything he knows about pitching as opposed to throwing.
"Doc" is named after the Arizona gunslinger Doc Holliday, though the nickname should reflect all the hitters he makes sickly after facing him start to start.
Hitters have not been sprinting up to the batter's box to face Burnett this season either, as he has pitched very well outside of one lowly performance in Fenway.
Excluding the Boston start, Burnett is 2-0 with a 3.86 ERA, 1.19 WHIP, and 2.5 K/BB ratio in five starts. He pitched at least six innings in four of those five starts, minimizing the early exits that once plagued his career.
It will be interesting to see how Burnett approaches facing his former team, as he normally has a knack for elevating his performance against division rivals.
New York will hope for a much better result than CC Sabathia's reunion with Cleveland, as a bullpen implosion left nothing but bruised egos and a 10-2 slaughter.
Burnett pitched admirably against the Rays in his last start, but he will need better command of his breaking ball to shut down a potent Jays offense.
Toronto is currently first in all of MLB with 204 runs scored and a .294 team batting average. They are also sitting third with 44 home runs. Their bats are one of the many reasons they sport the best record in the American League.
During his tenure as a Blue Jay, Burnett was 21-8 while pitching at home in the Rogers Centre. Perhaps his familiarity and past dominance in the park will help to fuel his fire on the mound.
"Doc" is one of the most respected and classy hurlers in the league, but this is one day that I hope he gets dosed with a little bit of his own medicine.
Also seen at: Heartbeat of the Bronx