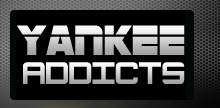 June 10, 2009 · Heartbeat Of The Bronx · Jump to comments
Article Source: Bleacher Report - New York Yankees
The Yankees endured a long and eventually expensive offseason of courting free agents and subsequently flirting with their representation and entourages.
Primary targets on the pitching front included a "no-brainer" in CC Sabathia, as well as two hurlers in their 30s on completely different sides of the mound spectrum.
The first was A.J. Burnett—a hard-throwing ball of electricity and intimidation, blessed with stuff that only could be sent down directly from the baseball gods.
In the other corner was former Red Sox nemesis Derek Lowe, a crafty veteran who possesses a sinker even the deepest burrowing of worms has nightmares about.
Both hurlers had won about 53-54 percent of their decisions entering the 2009 season, and their earned run averages were also strikingly similar. The decision would come down to other factors—ranging from age to injury history to American League transitional ability.
New York had to choose between a flashy glove-popping fastball and a stern grass-burning sinker. The decision is an easy one, right? It appears to be, especially considering the similarity in stat lines.
What if I told you that the glove-popping fastball belonged to a pitcher who only once won more than 12 games in a season, has never pitched a postseason game, has a turbulent injury history, and has been known to let innings explode like a Ford Pinto?
What if I included that the grass-burning sinker was released from the hand of a veteran who won the clinching game of each and every series on Boston's way to breaking the curse in 2004? Or that he has a career 1.15 WHIP and 3.33 ERA in 21 postseason games?
Now that we can agree that the choice is obvious and blatant, let's take a look at who the Yankees chose to trust the hopes of a World Series run in—the glove-popping fastball.
The move has undeniably backfired, as Lowe stands at 7-3 with a 3.44 ERA and 1.18 WHIP, while Burnett is floundering at 4-3 with a 4.89 ERA and nearly 1.50 WHIP.
Yankees GM Brian Cashman has been seen frantically searching for plutonium, a restored flux capacitor, and a used DeLorean in order to attempt to travel back in time to Dec. 12, 2008—the day he signed an $82.5 million check over to a lifelong tease.
When Cashman was pulled over for speeding down Jerome Avenue in the Bronx, he tried to explain to the NYPD that he was merely pushing his car to "precisely 88 MPH"—the suggested speed for time travel in Back to the Future.
Making things worse, the Yankees passed up a groundball pitcher built to throw in "hitter's parks" in favor of a fly ball pitcher destined for failure in the newly constructed homer haven of the Bronx.
An extra year and $22.5 million separates the contracts of the two pitchers, and the Atlanta Braves are more grateful every day for losing out in the Burnett sweepstakes.
The Yankees won championships because of men taking the mound who knew how to pitch regardless of how hard they may have thrown.
They won with Jimmy Key, Orlando Hernandez, David Cone, and Andy Pettitte—none of which would be confused with possessing a 95-plus MPH fastball at that point of their careers.
Lowe fit the exact mold New York needed for an October playoff run, while also not compromising success and consistency during the regular season. He is durable, dependable, poised, and fearless—the perfect complement to Sabathia in what could have been a flawless winter game of Monopoly.
Burnett may have helped to loosen and otherwise tight locker room atmosphere, and he has implemented an interesting celebration following walk-off victories.
As the season begins to wear on, however, it appears as though the Yankee hierarchy and Burnett himself are the ones left with pie on their faces.
Also seen at: Heartbeat of the Bronx