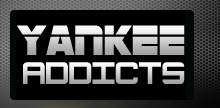 November 4, 2010 · Satchel Marquard · Jump to comments
Article Source: Bleacher Report - New York Yankees
For what feels like the 10th time of the decade, Andy Pettitte will once again enter the free agent market. At 38 and quickly approaching 39, Pettitte is the gold standard of wizened pro baseball players, still enjoying much success. Pettitte finished the 2010 season 11-3 with a 1.20 WHIP, not too shabby for a 38 year old. But it is in the postseason where Pettitte has earned a reputation, winning a record 19 games.
The 2010 postseason saw a continuation of Pettitte's dominance, providing the Yankees with several quality starts, which went for naught as the squad collapsed against a superior Texas Rangers squad.
Pettite is a free agent again, and though he is 38, he still has the numbers to warrant yet another massive payday. And he probably will get one, most likely from the Yankees who will be able and willing to overpay for the dominant starter's services yet again. And when Andy Pettitte does sign his new contract with the New York Yankees, and when Andy Pettitte is yet again dominant in both the regular and postseason, every baseball fan with a brain should raise their eyebrows.
Why should fans question Pettitte's sustained efficiency? Because Andy Pettitte is a cheater.
In December of 2007, Andy Pettitte was named on the Mitchell Report. Less than 48 hours after being listed by Senator Mitchell, Pettitte released a statement hoping to rectify his image and sway Americans away from their bias against cheating baseball players.
Pettitte's release said: "In 2002 I was injured. I had heard that human growth hormone could promote faster healing for my elbow…I felt an obligation to get back to my team as soon as possible…I was looking to heal."
Despite admitting to being a cheater, Pettitte was quickly embraced by the American media and public for his decision to come clean. Despite being a cheater, Pettitte managed to completely avert the continued criticism and skepticism that plagued other dominant superstars of the era, such as Barry Bonds.
In July of 2010, Andy Pettite strained a groin, causing him to miss two months. Pettitte came back in late September, pitching a masterful and complete six innings in his return, allowing just one run.
All of baseball bought it—Pettite was back, firing on all cylinders, and October, where Pettitte had always made his name, was two weeks away. Pettitte made two postseasons starts, allowing four runs in 14 innings pitched, with baseball fan's everywhere drooling at the continued success of Ageless Andy, baseball's best drug free 38 year old ever.
But lets be serious here, why on earth would we give Ageless Andy the benefit of the doubt? He is an admitted cheater, having confessed in a statement released by himself to receiving HGH injections to recover from an injury. Pettitte admitted he cheated when he was 30, in the prime of his physical fitness, to recover from an injury. Why should baseball fans believe that this same cheater, eight years later and older, would now refrain from cheating?
Andy Pettitte was 38 with a groin injury. HGH is a supplement that could definitely help a baseball player recover from an injury, as Pettitte witnessed when he cheated while on the DL in 2002. What would prevent Pettitte from turning to a PED again in 2010? Certainly his body would require this drug supplement much more than it did when he was at his athletic peak.
Why would Pettitte not take a PED in 2010? He had all the same incentives as in 2002 (remember Ageless Andy was in a contract season this year) and was once again on the DL.
Pettitte already cheated once, why should baseball fans expect him not to cheat twice?
Read more New York Yankees news on BleacherReport.com