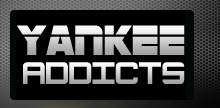 March 25, 2010 · Doug Rush · Jump to comments
Article Source: Bleacher Report - New York Yankees
One of the best things about being a Yankees Featured Columnist here on Bleacher Report is being able to bring up and address certain rumors that float around.
This will be another story pertaining to one of those rumors currently floating around, which now will be addressed by me, and I'm sure will be addressed amongst the Yankees B/R community here as well. I'm looking forward to it.
Lately, a certain big-named pitcher who will be a free agent pitcher after the 2010 season is now being linked to the Bronx.
The fans know him well enough, considering he's pitched in so many big games against the Yankees and has driven them nuts for the last seven years.
You guessed it, it's Josh Beckett.
Now, before I get started, I must be honest. I hate the Red Sox. I think about 85 percent of their fans are a bunch of front runners from 2004, while I give the rest of the Boston-New England area their due of being true fans who endured the losing. But for the most part, I think Red Sox Nation is laughable.
Now, with that out of the way, Boston has also been one of the best teams in baseball over the last seven years as well. They've had their trouble keeping neck-and-neck with the Yankees, but they've done the job. One of the biggest reasons why Boston keeps up is because of Beckett.
Without Beckett, Boston would finish in third behind the Rays in the A.L. East. He's the go-to pitcher in Beantown. Not Jon Lester. Not John Lackey. Not Daisuke Matsuzaka. Beckett is the guy.
He showed the world in 2003 just how great he was at age 23 by pitching the Florida Marlins to the World Series title over the Yankees.
After being traded to Boston in 2006, he helped pitch the Red Sox to the 2007 World Series championship over the Colorado Rockies.
In the last two postseasons, though, Beckett has been anything but the dominating playoff Beckett.
He had an ERA of 7.20 against the Angels and an ERA of 9.64 against the Rays in the 2008 playoffs and an ERA of 5.40 in a playoff series loss against the Angels in 2009. Usually, Beckett buzzsaws those teams in the playoffs, but not lately.
His numbers in the regular season have been very good, though. In 2009, he went 17-6 with a 3.86 ERA, striking out 199 batters in 212.1 innings.
In 2007, perhaps his best season, he went 20-7 with a 3.27 ERA, striking out 194 batters in 200.2 innings. He finished second in the A.L. Cy Young voting to CC Sabathia that year.
In 2008, Beckett pitched in just 27 starts and missed some of the second half of the season with a nagging arm injury. Some might wonder if all the major innings and work Beckett does catches up to him in the second half of the season. It could explain his last couple poor playoff performances.
Even so, Beckett is still one of the best pitchers out there and one of those you want on the mound with the game on the line. He's cool, confindent, arrogant, and mentally tough. Everything you want in a big-game starting pitcher.
He'll also be turning 30 this season with Boston, so he's not exactly a young kid anymore. In fact, with all the innings he's pitched, he's more a seasoned veteran.
2010 will be an interesting one for Beckett, pitching for a contract after this season. Some word around baseball is that the Red Sox will try to sit down with Beckett and work out a deal so he doesn't hit free agency.
Will they really try to work it out? Is Boston scared that the Yankees would have interest? There's the big question. Do the Yankees have any interest whatsoever in a pitcher who will be turning 31 next season who fatigues lately in the second half?
Personally, I see two scenarios with Beckett.
The first one is that Boston re-signs him. Beckett likes being in Boston and the fans love him there. He's a playoff warrior and the fans would hate to see him leave. I'm sure Theo Epstein will do his hardest to get Beckett re-signed during the season or after the season.
The other one is that Epstein realizes that Beckett is getting older and has Clay Buchholz ready to go and lets Beckett walk. Beckett is one of the two premier pitching names on the market, and teams will load up the cash to get someone like Beckett.
In fact, I could think of one team off the top of my head that could absolutely use Beckett's services: the New York Mets. They decided to be cheap in in the 2009-2010 offseason and perhaps it's because they know who is on the market after 2010. Beckett could be a name that intrigues the Mets, putting Beckett side by side with Johan Santana. Good luck National League with that.
In the end, personally, I don't see the Yankees getting involved for Beckett. I know at the end of 2010, CC Sabathia and A.J. Burnett are the only two pitchers signed for the 2011 season. Andy Pettitte goes year to year and could retire. Javier Vazquez is going to be a free agent and nobody knows what to expect out of Phil Hughes and Joba Chamberlain, so obviously, there are questions in the rotation after 2010.
The other big name whom I could see the Yankees being in the mix more for is Cliff Lee. He's a crafty lefty, just like Pettitte. He pitches well in big games, just like Pettitte, as we all saw in the 2009 playoffs, especially in Games One and Five of the World Series.
Lee's potential free agency is the reason why the Phillies traded him to the Mariners in the Roy Halladay deal. They didn't feel they could lock up Lee past 2010, where they could with Halladay.
I see the Yankees making more of a pitch to get Lee than Beckett. Beckett seems like he's starting to slowly wear down as he gets older while Lee isn't wearing down at all. Granted, Lee will be 32 by the end of the 2010 season, but Lee doesn't throw as hard and strain on his arm as much as Beckett does. I wouldn't be surprised if Beckett gets injured more and more as he gets older.
I have heard some of you saying that would like to get Beckett, but really, I don't think you want him. Maybe back in 2006 when he was four years younger, but not five years older.
I think this will be a free agent that the Yankees should and probably will pass on when the season is over. There are other arms out there that Brian Cashman will invest in.
Don't count on seeing Josh Beckett in pinstripes anytime soon.
Read more New York Yankees news on BleacherReport.com