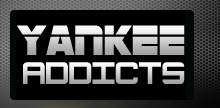 February 14, 2010 · Nic Hallisey · Jump to comments
Article Source: Bleacher Report - New York Yankees
My Grandpa was a lover to those close to him and a fighter against the disease that eventually took him away from his loved ones. He was an avid baseball fan, a man of courage and faith and mostly, a caring, supportive and loving grandpa to me.
Baseball always has and always will be one of my main loves. I learned that from him. Ever since I can remember, baseball was the common center between us.
Now probably nearing the triple-digit marker in number of games I've been to, he was the one who took me to my very first game. I don't remember a single thing about the game—to be honest, I don't even remember going—but I know that we went to my first game together, a Rockies game at the old Mile High Stadium.
Each summer he'd come out to Colorado to visit. He'd generally spend a week or so in town. During that time, he'd sit and watch me play a handful of times. He'd take me to a collector's store in Denver called Bill's. It had the best selection of baseball cards known to man. He'd always buy me whichever ones I wanted and we'd always get a big box full of an assortment of cards.
We'd generally go to three games at Coors Field while he was here, also. On the car ride down, I'd go through each card in the box, many of them old-timers I was unfamiliar with, and he'd tell me something about each player. He knew so much.
He'd graciously allow me to get to the games early and we'd stay well past the last pitch. One time we sat through a game that featured a rain delay, 13 innings of baseball and the Cardinals' third baseman becoming a pitcher because St. Louis ran out of actual pitchers.
The game lasted until the wee hours of the morning. Grandpa taught me how to keep score on the score card, but I ran out of room because of how many pitchers each team used. Did the rain or extra innings make Grandpa budge, though? Nope, we were staying at the game until it finished.
He taught me much of what I know about baseball—about bunting and sacrifice flies; why the cleanup hitter hits in the No. 4 spot in the lineup and that striking out swinging is always more respectable than going down looking. He taught me that if you aren't confident that you can get a hit, it's better to purposely strike out with a runner on first base than to weakly dribble one into the dirt and ground into an inning-ending double play.
He used to tell me how when he was younger, the starting pitchers would pitch complete games and that the National League is a joke because, "Do you realize they actually make their pitchers bat?"
My Grandpa was the first person I ever saw listening to a radio while sitting at a baseball game. I think it's a neat idea and I, too, will probably do it someday. Now I see people with portable TVs at games, but I think my Grandpa would stick with the radio. He liked the radio announcers better, anyway.
Each April our conversations were about the upcoming season. I would talk about how the Rockies were built to contend and that "this year is our year." He would tell me how George Steinbrenner had lots of money and that the Yankees will win . . . again. During the summers we'd talk about the season and come October, we'd engage in playoff talk.
Only once did I get to brag to him about how the Rockies were in the World Series while his Yankees were stuck at home watching. In every conversation he'd always reference his famous line, "How 'bout them Yankees?"
One of my favorite most recent memories with him was this past October when I was attending a Rockies playoff game. He called me during the middle of the game after a controversial safe-out call at first base. I told him that despite the umpire's call, Dexter Fowler was safe. Grandpa was my video review, confirming with me that the way I saw the play was indeed correct.
I think it's fitting that the last season that my Grandpa got to witness was 2009, when the Yankees won the World Series (As if the 17 other World Series rings he witnessed weren't enough). Last summer I traveled to New York and got to experience a game at historic Yankee Stadium. I was surprised to learn that my Grandpa, such a Yankee fanatic, had never been.
While the experience was amazing, it didn't quite win me over as a diehard Yankees fan. This past October, however, we promised each other that we would both root for the Rockies to win the National League pennant and the Yankees to clinch the American League title. If both teams made it to the World Series, then it was all fair game.
He joked that he thought he still had his Rockies hat somewhere in his closet; he would just have to blow off the dust that had collected on it for the past decade-plus since he last wore it.
He was always a good sport, though. He would tell me how he would cheer for Colorado State, my college, every time they played UNLV, his hometown, and how all of his friends in Las Vegas would give him a hard time because, most of the time, UNLV got the best of CSU. He stuck with the Rams, though and in the World Series last year, I stuck with the Yankees.
He always had a good heart and good sense of humor and I'll miss him deeply. While driving together he would randomly wave to passersby. Confused, I would ask if he knew them. He would respond, "Nah, but don't worry, they don't know me either." Last March I got to take my one and only visit to Las Vegas while he lived there. He picked me up from the airport and drove me around the Strip.
He took me to Freemont Street and we got a burger at a local diner and just talked. He came and watched me work at the Mountain West Conference tournament and on our last day we went to the Hoover Dam.
Our last baseball game together was two years ago during his final visit to Colorado. The Rockies won and then-closer Brian Fuentes set a Rockies record for most career saves.
In his 67 years, he battled prostate, melanoma and bone cancer, diabetes, kidney failure and triple bypass heart surgery. During the last few years of his life, he came back to his faith and in his final week, he told my mom that he was ready to leave his "temporary visit on this planet."
"I've lived on this earth twice as long as Jesus did," he said. "I'm ready to meet Jesus."
The Yankees organization might be losing their biggest fan in my Grandpa, but they have gained another in me. One thing that can't be replaced, however, was what my Grandpa meant to me.
I love you, Grandpa.
Aug. 21, 1941-Feb. 12, 2010
** This article is also featured on View from the Rockpile. **
Read more New York Yankees news on BleacherReport.com