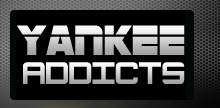 May 16, 2009 · ep Pehowic · Jump to comments
Article Source: Bleacher Report - New York Yankees
Welcome back A-Rod, and thank you.
He's only just returned, had his first and second games at the new stadium, but already Alex Rodriguez is making a difference.
On Saturday, he helped the Yankees to consecutive win No. 4.
The Yankess finally seem to be clicking, and think what you want about A-Rod, his arrival is playing a big part.
It's early, and hardly time to worry or brag about a win, but defending that ridiculously awesome offseason spending spree is difficult when a championship-on-paper team is sitting on a mediocre .500 record.
Yankees haters feel vindicated by even the slightest blip, bump, or outright slip.
They don't say it aloud, they ask, "How are the Yanks doing?"
But smirks on their faces scream "How's that Sabathia deal working for you?" or "Did you see Teixeira's batting average? Neither did I. Hahaha."
So, Phil Hughes comes in without his best stuff, again, Friday. Really thought the 23-year-old had things figured out this time, but he's going back down after Chien-Ming Wang returns.
Luckily, Melky Cabrera and Brett Gardner provided the bullets for a rally attack, so win streak stayed alive at three.
Then Saturday, A-Rod goes yard walkoff style in the 11th inning to send the Twinkies packing.
Five consecutive losses are followed with four consecutive wins and the pinstripers are ready to dice up those 4.5 games they are back from the division-leading Blue Jays.
The Blue Jays team from Toronto? Yes, it's messed up, but yes, Toronto leads the craziest toughest division in all of baseball. It's 1993 again.
There are many months left for everything to correct itself. The concern from anyone not in the lead, however, is that the upstart Rays never corrected last year. Hopefully, A-Rod's arrival, coupled with New York's little streak, is the first step.
After a few more wins, even pessimistic Yankees fans can start thinking about the American League East and, even as far off as fall is, a postseason series. And they will be able to look their baseball friends in the eye and smile when they defend paying for C.C. Sabathia, A.J. Burnett, and Teixeira.