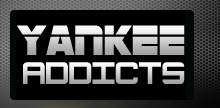 May 9, 2009 · Heartbeat Of The Bronx · Jump to comments
Article Source: Bleacher Report - New York Yankees
Like a story fit for Hollywood, Alex Rodriguez launched the first pitch he saw in 2009 over the left field wall.
Time seemed to stop momentarily as his bat connected with the pitch, and the Yankees quickly opened up a 3-0 first inning lead.
It is amazing how one pitch can completely change a team's outlook on the season, but A-Rod provided a much-needed resurrection of hope in the Bronx.
Though the bullpen, lineup, and starting rotation still have more questions and riddles than a law school final exam, New York finally had its superstar back.
More importantly, New York had a superstar with intensity and fire, ready to play with a large and persistent chip on his shoulder.
The glare that Rodriguez sent in the direction of the mound during his first at bat produced venom potent enough to kill an elephant in seconds.
A-Rod was on a personal mission to prove he could again be the player he always was, regardless of a debilitating injury and his subsequent shunning of PEDs.
The journey back from surgery is not always going to play out like the final scenes of a feature film in which Rodriguez wins the Academy Award for "Best Actor."
A-Rod will likely struggle with breaking balls in the weeks to come; unable to simulate the depth and sharpness of Major League off-speed pitches during his rehab process.
Hitting a fastball after a long hiatus is like getting back onto a bicycle.
Everything seems to come back to form naturally, and it feels as though your cleats had not been covered in dust just days earlier.
Off-speed pitches, however, are an entirely different animal.
In much the same way that pitchers need time to develop the feel for throwing them, hitters need repetition to master handling them at home plate.
It takes times to recognize the rotation of a baseball as it leaves a pitcher's hand, as well as determining the variation of velocities from pitch to pitch.
There was no better example of this intricacy than Rodriguez's second and third at bats.
Orioles starter Jeremy Guthrie learned from his first inning mistake, snapping off a sharp two-strike curveball into the dirt. A-Rod feebly waved at it, removing some of the luster from his storybook homer.
Rodriguez's third at-bat featured the same pitch-recognition issues. Again faced with two strikes, he anticipated receiving another sharp curveball low in the zone.
Guthrie instead threw a hard fastball on the inside corner at waist level, and A-Rod was caught frozen.
It will take a period of weeks for Rodriguez to become comfortable with this area of the game, so do not expect many more moments of instant heroism in the short-term.
It is important to remember that A-Rod did not at all participate in spring training, and he first has some rust and cobwebs to eradicate.
Rodriguez will not produce his fourth MVP season in 2009, but he doesn't have to for New York to succeed. His mere presence has energized the roster, and Teixeira should finally be able to relax.
Teixeira even admitted recently that he "was going to give (A-Rod) a big hug" when he saw him on Friday.
As far as the offensive production that A-Rod will produce…it is anyone's guess.
The important thing is that New York's embattled star and lightning rod has again returned to his self-proclaimed "family."
Though he is sometimes treated like an estranged uncle, this "family" is ecstatic to plug him into the lineup card hitting cleanup.
After all, this estranged uncle has an incomparable ability to hit a baseball.
Also seen at: Heartbeat of the Bronx