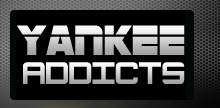 April 30, 2009 · Matt Miselis · Jump to comments
Article Source: Bleacher Report - New York Yankees
The 2009 baseball season has started off with a splash. Thus far many teams have had good starts to this season, such as the Marlins and Blue Jays who have had solid hitting and good quality pitching.
Then we have the New York Yankees. The most active team this offseason; thus far their big time acquisitions haven't been up to the caliber of the 26 time world champions.
Sabathia and Burnett have not been able to lead a predicted top five rotation in the league.
Questions about Wang and his injury, as well as Joba's future in bullpen does raise eyebrows.
Finally, we have Mark Texiera who hasn't played to his potential yet. Maybe it's just an early season fluke. For all we know Tex will heat up once summer comes around.
Yet, for him to be successful, he will need Alex Rodriguez as a counterpart if him and the Yankees want to be successful.
Alex Rodriguez? The starting third-baseman for the Yankees who at this point last year was being talked as a Hall Of Famer and to be the new homerun king?
Unfortunately, a lot has changed, and in A-Rod's case, not for the better. In the beginning of 2009, Selena Roberts from SI.com broke the story of Rodriguez's steroid use while with the Texas Rangers.
Besides realizing his career was going down the hill by the minute, Alex did say publicly that he only took any performance-enhancers with the Texas Rangers, and did not do so with any other team.
This story was on the downside for a few months.
All that was talked about was A-Rod's hip surgery, his rehab, and his possible return to the Yankees.
For Alex's case, however, he now has a bigger hole to get himself out of.
It was revealed today that Roberts, who started the news of his use publicly, is releasing a book titled " A-Rod", which should be out in stores in early May. With his recent luck, details of the book was issued to the Daily News today.
According to the report, Rodriguez has been taking steroids with the Yankees since joining them. The report also says a possibility of A-Rod taking performance-enhancers as far back as high school!
Now, who knows how Roberts found out this information ( Personally, I don't want to know.)
But if A-Rod truly took steroids since his high school days, that little shot he has into getting the Hall Of Fame closed right down on him.
His whole career, fully under the microscope, will now be put under the asterisk, once and for all.
Now, it's time to focus on the present. Alex is expected to return to the Yankees in about a week. Will the tons of pressure on Alex Rodriguez fall on his shoulders; which won't be able to carry the weight?
Just a few years ago he had arguably the best year statistically in his career. Whether he was on the juice or not, he will need to find a way to have a productive season again.
The Yankees need his power bat in the middle of the order if they want to avoid another playoff season.
Yes; you are asking a lot out of the guy who right now is probably getting more focus than Barack Obama, or even the disease that is within our country.
But you gave him just a year ago another contract that will last a decade; probably all of those ten years in pinstripes.
Don't get me wrong here, I don't have a hate for A-Rod as I do for Bonds and the others. He is probably getting the extra publicity just because he's Alex Rodriguez.
Frankly though, it is tough for me to show any sympathy for him. Sure he was young, and he made stupid decisions like everybody does.
He should have realized this wouldn't be much of a benefit for him, knowing that sooner or later people would use the technology to find out about him and his use.
He also made regretful choices as a man. He had the chance to stop taking the juice when people started cracking down on these users.
He had the choice of not resigning with the Yankees after his no-show of clutch in the playoffs; but he signed the contract anyway.
In the end, he has no one to blame about himself. Hopefully, our national pastime can now begin to move in a positive direction.
Matt Miselis is a writer for BleacherReport.com