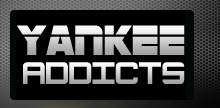 May 7, 2009 · Joe Huber · Jump to comments
Article Source: Bleacher Report - New York Yankees
Get the headline? I know, I'm hilarious.
As for the idea that Alex Rodriguez could turn the Yankees season around, as a Red Sox fan, it's no laughing matter.
I don't care what he's done in the post-season, how many steroids he's taken over the years, or that he just had hip surgery.
He's still Alex Rodriguez.
Unlike Bucky "Bleeping" Dent or Aaron "Bleeping" Boone, A-Rod has done little to earn a swear as a middle name, but that's not to say he doesn't have time.
Rodriguez is a looming figure for the not only the rest of the league, but seems to also have that effect on the rest of his teammates as well. However, he still hits home runs at will, and any pitcher worth his jock strap shouldn't start lobbing first pitch fastballs because they don't think he still has power.
Let me break the news now. He does.
I'm not afraid of the Yankees to a terrible extent since the Sawks have mopped the floor with them thus far this season, but that's just it. Thus far.
C.C. Sabathia will right his big fat ship, Chien-Ming Wang is coming back, and Robinson Cano is tearing the ball up.
There is no need for a panic in Red Sox nation, but there is a cause to make sure we are checking that rear view mirror that is the standings.
The Yankees have never simply died, in large part because they are like a virus. It's impossible to rid yourself of them entirely until they've just run their course and puttered themselves out.
Alex Rodriguez coming back opens doors for Yankees skipper Joe Girardi as well. He no longer has to worry about who is batting clean up and now has someone to protect Mark Teixiera.
The Yankees get a lot better with Alex Rodriguez. Heck, any team gets better with Rodriguez.
His ability to juice up a team can also have a cause and effect that is detrimental to the rest of the A.L. East's dreams of a divisional title.
Granted, his juice comes from a teams hatred for one man rather than their affinity for him and his leadership. Juice is juice.
Just ask A-Rod.