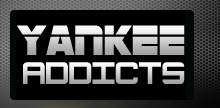 May 29, 2009 · Nick Fera · Jump to comments
Article Source: Bleacher Report - New York Yankees
In the Inner Actors' Workshop, located on Barham Ave. in Hollywood, frequent discussions surround athletes crossing over as thespians. From professional sports, common names include Brett Favre, Ron Artest, Todd Bertuzzi, and Alex Rodriguez. The consensus is that A-Rod may have the greatest chance of all.
He has shown great poise under the most adverse circumstances. His choice of wardrobe is impeccable. His articulation is mood-appropriate. His non-verbal behavior is exquisite. This is not just speculation, but based on his real life performances along with multiple high-profile and emotionally charged situations.
For example, his choice of the powder blue button-down sweater in the recent Peter Gammons interview that made Darren Stevens look like Larry Tate's bitch.
His great use of props in his steroid press conference; i.e., when he drew near tears and paused for what seemed to be an eternity, then to silently drop his head to his left beneath the table and stare at a picture of slaughtered children to spike his depression.
Then to raise his head, reach for the water bottle on his right and wet his palate prior to posting the longest apology of all-time, albeit with the use of six words maximum.
The time when he convinced the press and his fans that he had simply said "Hah!" while rounding third base. Then having been accused of causing the third baseman Howie Clark to drop the infield flyball, when in reality, recalling that Clark's deceased father lost a leg in the Korean War, yelled "Peg-leg!" at Howie thus distracting him.
The time that while walking with his wife Cynthia in Central Park, he took off his polo shirt thus exhibiting his bare upper-body. But what was not revealed in the tabloids is that the shirt came off quickly when he saw a boyish figure at a distance on a 1920s bicycle, believing the cyclist was Pee-Wee Herman.
In summation, those in the "know" believe that A-Rod is a cross between Fernando Lamas and Harrison Ford.