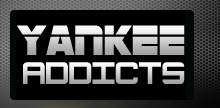 March 3, 2010 · Leslie Monteiro · Jump to comments
Article Source: Bleacher Report - New York Yankees
The Yankees and the Pirates played their first exhibition games of the season this afternoon at Legends Field. It looked like a mismatch on paper even for a spring training game.
Not only are the Yankees stacked right now, but their minor league system looks much better than the Pirates. That's what happens when a team has many resources to work with.
It's no wonder that both fanbases don't share the same expectations heading into this season. While Yankees fans expect a World Series championship this year, Pirates fans expect another losing season.
That's not a good situation.
This should be proof the system stinks. Last year, most of the teams featured in the playoffs had a high payroll.
We learned if a team spends money, that's all it takes to make the playoffs. It's rational thinking.
However, not many teams can have that luxury. Most mid-market teams don't have the big TV contracts or fanbases to keep up with the Yankees and the Red Sox of the world.
It's something Yankees fans fail to grasp. Of course, why should they? It's not their problem.
True baseball fans should care. How is baseball a great game when the haves dominate the have-nots?
Last year's playoffs were unwatchable with a couple of big-market teams dominating overmatched teams in the Division Series and the League Championship Series. Then we saw a team with a gazillion-sized payroll conquer a big-market team in a quick World Series.
Here is couple of solutions to end this.
Either have a salary cap or realign divisions. Realignment sounds interesting.
ESPN.com's David Schoenfeld suggested teams rotate divisions every year so their chances of making the playoffs increase. It looked strange, but come to think of it, it's not a bad thing.
The Orioles, Rays, and the Jays have a zero chance to make the playoffs in the AL East. It would make sense if one moved to the Central or another league for a year.
Yes, the Rays made the playoffs two years ago, but let's remember the Yankees had many injuries that season so it was easy for them to make it. If the Yankees had their health, the Rays would have fallen apart in August.
How about listing all the bad teams in one division and the winner win it all? It gives those fans something to watch no matter how bad it looks. It's better than nothing.
The NBA, NFL, and the NHL feature mediocre teams making the playoffs. Those games are actually watchable.
Sports should be about providing hope and excitement, not forcing a fanbase to give up on the team when the season started. In baseball, too many towns don't even care, knowing that their teams don't have a shot.
Baseball is supposed to be fun. It should bring families together at the ballpark.
That's not the case. Outside of New York, Boston, and Chicago, ratings are in the toilet and there are too many empty seats at the games.
It's clear fans hate the system.
Something has to change. This game is dying as it is. Does anyone get excited about Opening Day or the playoffs anymore?
It was fun to watch small-market teams compete for championships in the '80s. It was great baseball.
When baseball reinstated George Steinbrenner, it was a dark day for baseball. Teams knew he would spend to win again, and it's no coincidence the Yankees got back to the playoffs as soon as he came back. Other teams could not keep up anymore.
It continues to be a struggle. When does Bud Selig do something about it?
A good commissioner does something about it, but he decided it wasn't worth turning the baseball owners off.
This explains how incompetent he is at his job.
Maybe realigning divisions can serve as a panacea to this mess, but in the long-run, a salary cap can only make this sport respectable.
When the Yankees reserves can beat the Pirates reserves in a spring training game, something is wrong.
Read more New York Yankees news on BleacherReport.com