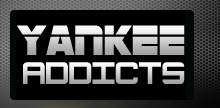 April 28, 2009 · Joey Corso · Jump to comments
Article Source: Bleacher Report - New York Yankees
.300 AVG, .360 OBP, and .410 SLG.
That stat line represents what experts and fans alike almost certainly would have predicted for Derek Jeter this current season. Solid numbers, no doubt.
But at this point in his Hall of Fame career, it is obvious we were classifying him as a singles hitter.
As the season hits the 20-game mark, we may be underestimating him.
Jeter seems to be right where we pegged him with a .294 BA and .355 OBP. What's strange is his hefty .482 SLG.
He has already hit four home runs. It took Jeter until June 13 last season to hit No. 4.
Back to Jeter's SLG.
Since 2006, when Jeter posted nearly career numbers all around, including a .483 SLG, the number has gradually gone. For the past two seasons he was at a measly .408.
Take away the 2006 season and his highest mark since 2002 was a .471.
Jeter turns 35 in June. He is no longer the youngster from the Yankee dynasty of the late 1990s and early 2000s.
Late career power surges are known to happen, but not to 35-year-old shortstops.
Yes, the new Yankee Stadium is playing like Coors Field of the East. This has probably contributed to Jeter's eruption. He has a monster .600 SLG at home this season. However, his .446 SLG on the road shows he's swinging with a bit more pop everywhere.
Twenty games into the 2009 season we're seeing some things we never imagined:
The Toronto Blue Jays have the best record in baseball.
Zach Greinke has yet to allow a run.
Derek Jeter is becoming a slugger at the tender age of 35.
I hardly ever make anything of these first few games, as several of the players are still working their way back into player shape. However, unthinkable happenings come about every season.
Maybe, this will one of them.