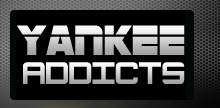 October 5, 2010 · Todd Salem · Jump to comments
Article Source: Bleacher Report - New York Yankees
A.J. Burnett will not be in the Yankees' ALDS rotation according to some sources. They will go with the highly expected threesome of Sabathia, Pettitte, and Hughes. Game 4 would see Sabathia pitch again, on short rest.
The rest of the series, if it went further, would have Pettitte pitching again on normal rest because of the off day. This is anything but ideal, and yet it worked well enough a year ago. However, last year, one of the Yankees' three in their shortened rotation was in fact A.J. Burnett.
2010 has been a different story. Burnett has put together what could be considered the worst season by a Yankees pitcher of all time. Starting 33 times, Burnett won 10 games and lost 15 for a team that finished with the second best record in the majors. The main problem with his season was that the Yankees were forced to continually trot him out there for one start after another. Posting a 5.26 ERA over the course of 186-plus innings is hard to do. Being that bad for that span of time is nothing to sneeze at. Throw in an otherworldly 1.51 WHIP and the fact that base runners could steal at will against him, and Burnett had a season for the ages. It just happened to be infamous rather than famous.
Normally, over the course of a season, I try my hardest never to overreact to anything. Baseball is too damn long to get carried away over a week stretch in a six-month grind. Players usually reach their mean. A good player will get to where he always gets to, numbers-wise, for the most part. Down years happen. So do career years. Yet, on average, a player will do what we expect them to.
Mark Teixeira is a great example. Burnett's Yankees teammate had a down year, but I was never worried about him. Even if he never got his average up from his terrible April and May, his numbers would be where we expected them and he would contribute about as much as we would think. In the end, Tex hit 33 home runs, drove in 108 and scored 113 runs. He still ended with the worst batting average and OPS of his career, clearly a down year, yet the numbers were respectable.
With A.J. Burnett, people were expecting a similar situation. They were treating 2010 as a down year and wondering if he would rebound to make the final tallies respectable. A couple months back The Hardball Times had an article about fantasy busts, the players having the most disappointing seasons. Burnett made the list because he wasn't performing the way everyone thought he should, and there is the key: the way everyone thought he should.
For some reason, Burnett was able to pull a fast one over much of the nation into believing he is actually good.
What proof do we have that Burnett is a good pitcher? He is talented, sure. He has a hard fastball and an electric curve. He also leads the league in hit batters and wild pitches routinely. The WHIP and walk numbers support his career-long lack of control as well. The fact is Burnett has only had one reasonably good season in his entire career, and even that was nothing historic. A.J.'s 2008 season saw him go 18-10 with a league-leading 231 strikeouts. He also posted an ERA over four and a 1.34 WHIP. Not even digging very deep, we see Burnett's very best isn't all that great.
Yet from that 2008 season, he received his current five-year, $82.5 million contract. The Yankees cannot trust him to start a first-round playoff game in 2010, yet still must pay him top dollar through three more seasons after this. Of course the money doesn't really matter. The Yankees can afford it. In fact, it has been said the goal of the 2009 offseason was to sign three huge free agents and "go two for three" if you get my drift. They hit on Sabathia and Teixiera so "missing" on Burnett still kept them in the black.
Even if Burnett is not a gigantic monetary burden to the Yankees, he is still being paid like one and performing like a long man. Many Yankees fans hate Javier Vazquez for the season he put us through and how he left the first time in 2004.
No, let me rephrase that. ALL Yankees fans hate Vazquez now.
But think back to what he cost the team. They gave up a fourth/fifth outfielder in Melky Cabrera for a reigning NL Cy Young contender. Knowing the outcome and how badly he failed in New York, I STILL think that was worth the deal. They gave up basically nothing for him. Burnett, on the other hand, cost an arm and two legs.
He also puts the Yankees in quite a hole because, where Vazquez was an extra piece tossed into a rotation that could survive without him come playoff time, Burnett was expected to be the anchor of that very same rotation. He was supposed to be a guy that could pick up a third game if the series was coming back to New York tied at a game apiece.
And there is the proof yet again. Even the Yankees thought Burnett was something he is not. I'm going to pull a Bill Simmons and reuse something I said on a different platform (Twitter). Back in August, after Stephen Strasburg went down for the year, I tweeted I would rather have him for the remainder of this season than Burnett. The exaggeration wasn't even too far off. The Yankees would have been better off, technically, with no one pitching.
Burnett ended the year with a negative WAR. WAR is a score of how someone performs above the most basic replacement player. Burnett performed worse than a bottom-barrel, middle-of-the-road minor leaguer could have.
For someone who made $16.5 million this season, I'd have to call that the worst value in sports. At least he's good at pieing people in the face. So, there's that.
Read more New York Yankees news on BleacherReport.com