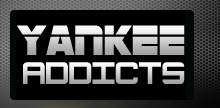 October 18, 2010 · james stewart-meudt · Jump to comments
Article Source: Bleacher Report - New York Yankees
With the 2010 ALCS between the New York Yankees and Texas Rangers tied at 1-1, and Rangers' starter Cliff Lee looming in Game 3, the Yanks made a big statement by sticking with A.J. Burnett as their Game 4 starter.
If the Yankees found themselves down 2-1 in the series, it was possible they wouldn't give Burnett the start, and with Lee on the mound, a 2-1 series deficit seems likely.
But the Yankees' kept their plan in motion and Burnett will see Game 4.
During the regular season, Lee went 2-0 in three starts against the Yankees with a 3.09 ERA and .209 BAA. But during this postseason, Lee has dominated, beating the Tampa Bay Rays twice to get the Rangers into the ALCS.
Tonight in New York, Lee will look to give his team a series lead, which is all the more important knowing that Burnett will start Game 4.
Burnett struggled this season to the tune of a 10-15 record and a 5.26 ERA and was left off the postseason roster for the ALDS against Minnesota. Despite his struggles, the Yankees have shown a lot of confidence in Burnett by giving him the ball in Game 4, especially with the all-too-real possibility of being behind in the series after tonight.
The road that got the Yankees to where they are now has been outlined with signs pointing to Burnett getting a start. They didn't need him in the five game ALDS, opting instead for a three man rotation. That's not an option here in a seven game series, unless you want to start CC Sabathia, Phil Hughes and Andy Pettitte on short rest the rest of the way.
Sabathia didn't look good in his start in Game 1 and was bailed out by a big rally and Hughes was shelled in Game 2 to even the series, 1-1. No matter how Pettitte pitches tonight, short rest wont be an option.
So the Yankees will go forward with Burnett, who has pitched well against Texas. During the regular season, Burnett was 1-0 in three starts with a 2.50 ERA and 17 Ks. He'll need to pitch at least that well to reward the Yankees. If not, if Burnett struggles, it's going to be anarchy in the Bronx as the Yankees could be staring at a 3-1 series deficit and their postseason hopes drifting away.
Read more New York Yankees news on BleacherReport.com