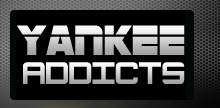 December 31, 2009 · Doug Rush · Jump to comments
Article Source: Bleacher Report - New York Yankees
Tonight is the final night of 2009. The end of one decade and the beginning of a new one in a few short hours.
Tonight, I will step back from baseball writing and focus on life.
Six months ago, I graduated from college with a bachelor's degree in communications and journalism, hopeful that I would land a job with a newspaper, magazine, or Web site.
A month passed by, waiting to hear back from places who received my resume; I got a message from my former sports editor in college and fellow Bleacher Creature Michael Cohen, encouraging me to continue my writing on some Web site called Bleacher Report.
Intrigued, I joined in June, and, 178 articles later, I have continued the craft I have learned and loved since I was 12 years old, when I wrote my first story in school.
I have met a lot of great writers and great people on this site, and I can only hope it turns into a mega-site that will receive national fame, like an ESPN, CBS, or FOX. As I see more quality articles and members joining every day, I can only think maybe this site has a true chance to hang with the big time.
When I tell people I know about the site, they give me the "Oh, I never heard of it, I guess I'll have to check it out" speech. I even post my stories on my Facebook account to not only get people to read, but to attract new people to the site and get them talking.
After many months of writing Yankees, Giants, NFL, and MLB stories, I was informed on Dec. 21 that I was going to become a B/R Featured Columnist for the New York Yankees page, an honor I was proud to have. In a way, it felt like an early Christmas present.
Back in August, I had applied for the position and was turned down, told to continue to get better and stronger and then re-apply for the position. Four months passed, and I was the No. 5 writer on B/R's MLB page with a lot more stories on my resume. My application wasn't denied this time, and I was grateful for it.
So as one of the featured writers on the site and on the Yankees page, I would like to thank everyone for making this a fun place to come every day to talk, to read, and to learn.
I would like to wish everyone a happy New Year in 2010, and my resolution on this site is to continue to provide quality and great articles for all of you, and to help all of you to make this site a better one.
At midnight, we begin a new decade. Let's make it a great one with lots of fun, more memories, great stories, and, well, more Yankees baseball—and maybe even a 28th championship.
Happy New Year, Bleacher Report!
Read more New York Yankees news on BleacherReport.com