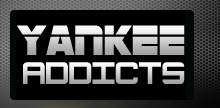 March 17, 2010 · Doug Rush · Jump to comments
Article Source: Bleacher Report - New York Yankees
The 2010 season is almost upon us. Baseball season is getting much closer to being back.
We're about two weeks away to Easter Sunday on April 4, when Opening Night will kickoff the season on ESPN, and what a game to open up with between the defending World Series Champions New York Yankees and rival Boston Red Sox.
But there will be 29 other teams trying to do what the Yankees did this past November, which is win the World Series. Eight teams only get a chance every year to qualify to win, so who will be the teams this season to step up and challenge the Yankees?
Lets break down each division and each league and see how they are projected for the 2010 season.
American League East:
1. New York Yankees (2009: 103-59): 96-66
The champions should still be good enough to not only make the playoffs, but win the division as well. They got back Javier Vazquez to a rotation including C.C. Sabathia, A.J. Burnett, and Andy Pettitte that dominated the 2009 post season. They lost Johnny Damon, Hideki Matsui, and Melky Cabrera, but did gain Curtis Granderson and Nick Johnson in a lineup with Derek Jeter, Mark Teixeira, and Alex Rodriguez. Their only question is if Joba Chamberlain or Phil Hughes wins the fifth starter spot, with the other going to setup Mariano Rivera in the bullpen.
2. Boston Red Sox (2009: 95-67): 91-71
OK, so they added John Lackey to a pitching staff that already includes Josh Beckett, Jon Lester, and Daisuke Matsuzaka. That is a pretty good one through four rotation right there, so they better pitch well, because their offense might find at times struggle to score runs, especially on the road away from Fenway Park. They add Mike Cameron in center field and Adrian Beltre for defense, but adding Beltre forces Mike Lowell out of the lineup, who when healthy is a clutch at-bat. Also, David Ortiz is still on the decline and it should be interesting to see how he performs the year after he is outed for the steroid allegations. Despite not being as complete as the Yankees, Boston should still be good enough to compete for a playoff spot.
3. Tampa Bay Rays (2009: 84-68): 87-75
After a magical 2008 of being the American League Champions, the Rays came crashing back down to Earth in 2009 and right into third place. They traded away Scott Kazmir, so now the rotation will feature David Price as the main left-hander with Matt Garza and James Shields. They did acquire a need by trading for Rafael Soriano as their new closer after both Troy Percival and Jason Isringhausen suffered injuries last season that ended their careers. The big question for Tampa is Carl Crawford, who is in the final year of his contract. Will the Rays trade him or will they let him just play out his deal?
4. Baltimore Orioles (2009: 64-98) 74-88
Good news Orioles fans, your team will not finish in last in 2010, and it looks like they might be a little better. The Orioles have developed their own players slowly with Brian Matusz and Nolan Reimold, plus top minor-league prospect Matt Weiters. Mix in the Orioles prospects with veterans like Kevin Millwood, Brian Roberts, Garrett Atkins, and a returning Miguel Tejada, plus Adam Jones and Nick Markakis, young stars who already went through the Baltimore system, and this is looking like a team getting better. If they weren't in the A.L. East, they might be a .500 team. A few more years and the Orioles could compete again.
5. Toronto Blue Jays (2009: 75-87) 59-103
Well, what can you say about this team? They traded away Scott Rolen and Alex Rios last season to shed payroll. They lost Marco Scutaro to the Red Sox. Then they traded away Roy Halladay to basically guarantee the Blue Jays finishing in last place in 2010. Who is left in Toronto? Vernon Wells, and the fans in Toronto don't even want him there to begin with. New general manager Alex Anthopoulous has a very tough job to do, and yes, trading Halladay was part of the re-building process. They did get Brandon Morrow from Seattle, but aside from Aaron Hill and Adam Lind, this is going to be a really bad team.
American League Central:
1. Minnesota Twins (2009: 87-76): 90-72
Despite losing Joe Nathan for awhile, this team is still good enough to win the division. I like the additions to their offense with Jim Thome, Orlando Hudson, and J.J. Hardy to go with an offense already with MVP's Justin Morneau and Joe Mauer. Speaking of Mauer, the team is desperately trying to get Mauer locked up before the winter, where he could enter the 2010 offseason as a free agent, where he could make mega dollars away from Minnesota. The Nathan situation does cause for some concern, especially if Nathan does miss the entire 2010 season and leaves them without a closer, but Minnesota always finds ways and resources to win games. 2010 will be historic in Minnesota as they open up their brand new Target Field, an outdoor park, contrast to the Metrodome which was indoors. Enjoy the frigid baseball there!
2. Detroit Tigers (2009: 86-77): 87-75
Detroit had the division wrapped up last year with about a week to go, and then let the Twins take it right from them on the 163rd game of the season in the Metrodome. They traded away Curtis Granderson and Edwin Jackson in separate deals, but they did get Johnny Damon's bat and leadership on offense. It should be interesting to see if Miguel Cabrera comes back focused after it was realized he had some alcohol problems late in 2009. The big concern for Detroit will be their rotation after Justin Verlander and Rick Porcello. Jeremy Bonderman can't stay healthy and neither can Dontrelle Willis. Maybe Jim Leyland takes up smoking cigarettes and drinking strong coffee in the dugouts again.
3. Chicago White Sox (2009: 79-83): 81-81
On paper, the White Sox might be a good team, but they don't perform to their ability at times. They have Jake Peavy and Mark Buehrle at the front of their rotation and Peavy's health is a major key to Chicago's luck in 2010. Jermaine Dye and Jim Thome are no longer here on offense, which leaves Paul Konerko and Carlos Quentin as the main bats. Gordon Beckham developed last season as a young star and his progression could continue to get better in 2010 as a full time player. So anyone want to take an early bet on how much money Ozzie Guillen gets fined for his comments in 2010? I'm starting the line at $50,000.
4. Cleveland Indians (2009: 65-97): 68-94
One year ago, I picked this team to win the Central. Oops. Kerry Wood wasn't the closer Cleveland hoped for. Cliff Lee got traded to the Phillies and took Ben Francisco with him. Carl Pavano got traded to the Twins. Grady Sizemore was hurt in the second half. Ryan Garko got traded to the Giants. Victor Martinez got traded to the Red Sox. Mark DeRosa got traded to the Cardinals. And Eric Wedge was fired after 2009. What a mess. So Sizemore is still here, barely. Wouldn't be surprised if he too asked for a trade right out of there.
5. Kansas City Royals (2009: 65-97): 64-98
There was one bright spot for the Royals in 2009, which was Zack Greinke winning the American League Cy Young Award after a dominating season. Greinke went from dealing with personal problems to perhaps being one of the games best pitchers in just a few years. Now the only problem is, the rest of his team stinks. The next bright spot on the team is their closer, Joakim Soria. After Greinke and Soria, it's reaching with this team. They do have a trading chip on their team with Gil Meche, who could be a nice pitcher for a team to add in July if a playoff team needs to add an arm.
American League West:
1. Seattle Mariners (2009: 85-77): 91-71
The reign of the Angels dominance in this division finally might be over, because this Mariners team looks pretty good. Who would have thought that bringing back Ken Griffey, Jr. to the team would be a difference-maker. He took a team in shambles and a mess and made the locker room and team a fun one by bringing leadership and some stability. They traded for Cliff Lee who was unbeatable in the 2009 playoffs with the Phillies. Now Lee joins a rotation with Felix Hernandez. If Erik Bedard can pitch healthy and if they do get Jarrod Washburn back from free agency, Seattle's rotation may be very good. With Chone Figgins and Milton Bradley as the newest additions to the offense with Griffey and Ichiro Suzuki.
2. Los Angeles Angels (2009: 97-65): 88-74
Yep, I am not picking the Angels to win the division again, and I don't think they will even make the playoffs this year. They lost John Lackey to the Red Sox. They lost Chone Figgins to the Mariners. They lost Vladimir Guerrero to the Rangers. And not to mention from last year where they let Mark Teixeira and Francisco Rodriguez leave as free agents too. They keep losing too many good players. Brian Fuentes surely did not replace K-Rod as the closer since they went out to get Fernando Rodney. They did get Hideki Matsui, who will be the full time DH, so now the offense will rely on Matsui, Bobby Abreu, Torii Hunter, and Kendry Morales. With Lackey's departure, it takes a big hit on the rotation, and Scott Kazmir is nowhere near Lackey's level.
3. Texas Rangers (2009: 87-75): 85-77
The Rangers are still a work in progress. They continue to bring up young talent like Derek Holland, Tommy Hunter, and Elvis Andrus. They have established players like Josh Hamilton and Michael Young plus new additions like Vladimir Guerrero and Rich Harden. As long as this team is under the system that president Nolan Ryan is implementing, especially with his pitcher to go longer distances and pitch longer, this may be a tougher team and one that could be on the rise in the future.
4. Oakland Athletics (75-87): 70-92
Oakland hasn't been competitive since 2006 where they were the A.L. West Champions, but it's been a youth movement for this team. Jason Giambi got moved to the Rockies and Nomar Garciaparra signed a one-day contract with the Red Sox, then retired. They traded for Matt Holliday, then shipped him off to the Cardinals. They did however, make a shock in the free agent market by signing Ben Sheets to a one-year deal worth about $10 million. It's a big risk considering Sheets' past injury problems, but it's also a situation similiar to Holliday where they could keep him for half a season, then deal him to a contender for prospects, which seems to be Billy Beane's model for running his organization.
American League Playoff Teams: Yankees, Twins, Mariners, Red Sox
National League East:
1. Philadelphia Phillies (2009: 93-69): 94-68
This is perhaps the best team in the National League right now. They have the best offense in the N.L. with Jimmy Rollins, Ryan Howard, Jayson Werth, Chase Utley, Raul Ibanez, and Shane Victorino. To go along with that offense, they now have Roy Halladay, who goes from pitching in the tough A.L. East to an easier N.L. East and may become even more dominant with the easier lineups. Two big concerns with the Phillies are Cole Hamels getting back to his 2008 form after a disasterous 2009 and the same thing with Brad Lidge, who was not trusted in the 2009 World Series. Make no mistakes, this is the team to beat in the N.L.
2. Atlanta Braves (2009: 86-76): 90-72
This is the final hurrah for Bobby Cox as he announced 2010 will be his final year managing the Braves. The Braves were pretty good in 2009, but they did make additions to the bullpen with Billy Wagner and Takashi Saito, plus Troy Glaus and Melky Cabrera on offense, to go along with Chipper Jones, Nate McLouth, and Brian McCann. They were glad they didn't trade away top pitching prospect Tommy Hanson as he looks like he will be a future star for the Braves. What a surprise considering the Braves produced Hall of Fame arms like Greg Maddux, Tom Glavine, and John Smoltz.
3. Florida Marlins (2009: 87-75): 84-78
At times in 2009, the Marlins looked like they could challenge the Phillies in the N.L. East, but they are still a young and inexperienced team. They do have All-Stars in Hanley Ramirez and Dan Uggla and a Rookie of the Year in 2009 with Chris Coghlan on offense, but after that, it's still very young and not well known. Pitching is where the Marlins could excel on this team. They already have a developing star in Josh Johnson, plus decent arms like Ricky Nolasco, Chris Volstad, and Anibal Sanchez, who has already thrown a no-hitter back in 2006. They're still young, so don't expect them to overtake Philadelphia just yet.
4. New York Mets (2009: 70-92): 80-82
What an amazin' mess 2009 was for the Mets. During the year, Carlos Delgado, Jose Reyes, David Wright, Carlos Beltran, Johan Santana, Oliver Perez, John Maine, and J.J. Putz all spent time on the DL in 2009. 2010 isn't getting any better as both Beltran and Reyes will begin the season on the disabled list. The Mets did add Jason Bay to the offense, which should help some. They also traded for Gary Matthews, Jr. to play in place of Beltran while he's off the field. Matthews isn't Beltran, but he's a decent replacement and maybe better than Angel Pagan or the developing Fernando Martinez. Pitching-wise, they do have a returning Santana, but after that, the rest of the rotation is a big question mark.
5. Washington Nationals (2009: 59-103): 68-94
All right, so they added Chien-Ming Wang and Jason Marquis to the rotation to go along with draft pick Stephen Strasburg and John Lannan. They signed Matt Capps to be their closer. Ivan Rodriguez will be the starting catcher, they still have Adam Dunn and Josh Willingham, but both Willingham and Dunn could be used as trade bait in the summer once the Nationals are out of the playoff race again. Honestly, I wouldn't even be surprised if Wang, Marquis and Lannan find themselves on the trade block as well. The only one with a future in Washington is Strasburg, and he will be the one, and only one, people in Washington really watch.
National League Central:
1. St. Louis Cardinals (2009: 91-71): 90-72
This is the Cardinals' division to own for a while. They are head and shoulders better than the rest of the compeition and, as long as they keep their core players, will stay here for a while. The team re-signed Matt Holliday to a long-term deal in the winter to go along with Albert Pujols, who is perhaps the best player in all of baseball. The Cardinals are trying to work on signing Pujols long-term, so that Pujols never reaches free agency. Rumors have had a Pujols-for-Ryan Howard sawp, but right now, those are just rumors, although Howard is originally from St. Louis. Pitching wise, the Cardinals 1-2 punch of Chris Carpenter and Adam Wainwright are very good and were up top the N.L. Cy Young voting in 2009.
2. Chicago Cubs (2009: 83-78): 84-78
They finally got rid of Milton Bradley in Chicago, who alienated another team, clubhouse, city, and fans in just one season. Now he's Seattle's problem. On paper, the Cubs have talent with Derrek Lee, Geovanny Soto, Alfonso Soriano, and Aramis Ramirez, plus Carlos Zambrano, Ryan Dempster, and Ted Lilly in the rotation, but Lee and Soriano are starting to get older and the Cubs aren't dominating the division like they did back in 2007 and 2008. 2010 is also the final year of Lou Piniella's contract and it could be his last year with the Cubs, especially if they miss the playoffs again.
3. Milwaukee Brewers (2009: 80-82): 81-81
After a remarkable 2008, the Brewers took a step back in 2009 like most expected. 2010 will be Prince Fielder's contract year and some might wonder if Milwaukee trades Fielder if they can't resign him before the winter. It would be a terrible loss for the Brewers if they did lose Fielder to free agency because he and Ryan Braun are the core players of this team. Their pitching isn't going to overpower anybody, and they even might have overpaid for Randy Wolf this offseason. It was also surprising that they haven't signed Jarrod Washburn either because many people felt the Brewers would lock him up as well.
4. Cincinnati Reds (2009: 78-84): 80-82
It was very surprising to see the Reds win the sweepstakes for Cuban defector and left-handed starter Aroldis Chapman. Many felt the Yankees, Red Sox, Blue Jays, Marlins, Mets, and Rangers were going to be the strong suitors for Chapman, but in the end, Cincinnati was the winner. Now Cincinnati has a chance to build a rotation with Chapman, Edinson Volquez, Johnny Cueto, Bronson Arroyo, and Aaron Harang. On paper, it's a decent rotation. Mix in an offense with Jay Bruce, Brandon Phillips, and Joey Votto, and the Reds could compete. Their future is very bright.
5. Houston Astros (2009: 74-88): 68-84
If I am Lance Berkman, I demand a trade out of this place, because it's going nowhere and he's got a few good years left. Long gone are the days of Jeff Bagwell and Craig Biggio and the dominance of the Astros in the Central. While I am at it, if I am a contender, I would check to see what it would cost to get Roy Oswalt out of Houston, because he's a good pitcher on a terrible team. This is what baffles me about this team. They trade away Luke Scott and Matt Albers to the Orioles for Miguel Tejada, only to let Tejada go back to Baltimore. So basically, in the end of that trade, the Orioles ripped off the Astros. Good job, Houston.
6. Pittsburgh Pirates (2009: 62-99): 60-102
This is by far one of the worst ran organizations, not only in MLB, but in all of sports. You have a city of Pittsburgh, where the Steelers have won two recent Super Bowls, the Penguins are the defending Stanley Cup Champions, and the college basketball team is a contender in the NCAA Tournament. Now you have your baseball team which hasn't had a winning team since Barry Bonds played here. That's bad! They have some talent, but chances are they are going to be traded before July 31, so why bother even dealing with this pathetic team? They need new ownership and a new vision, preferably from people who know the game of baseball. I am sorry for the Pirates fans, and you are justified in walking out of games.
National League West:
1. San Francisco Giants (2009: 88-74): 92-70
All this team needed was some offense for a couple years. They have tremendous starting pitching with 2008 and 2009 Cy Young-winner Tim Lincecum, Matt Cain, Barry Zito, and Jonathan Sanchez, who threw a no-hitter in 2009. Now on offense, they have added Mark DeRosa, Aubrey Huff, Freddy Sanchez, and kept Bengie Molina, who turned down the Mets to stay with the Giants. Add those players with Pablo Sandoval, who is developing into a solid player, and this is going to be an even better team in 2010 and might overtake the division.
2. Los Angeles Dodgers (2009: 95-67): 90-72
The Dodgers are still a good team, but their pitching isn't as strong as the Giants' staff. They do have young arms like Clayton Kershaw and Chad Billingsley, but they didn't really add anyone to the rotation, aside from Vicente Padilla, who came last season. In fact, this is virtually the same team from 2009, except Dodgers fans are hoping for a better Manny Ramirez, who has gone on record saying 2010 will be his last in Los Angeles. Many expect Ramirez to go back to the American League and be a full-time DH. This also could be Joe Torre's last season as manager, as he is grooming Don Mattingly to take over once Torre is done with baseball.
3. Colorado Rockies (2009: 92-70): 87-75
In 2009, it was almost a repeat of 2007 with the Rockies coming on late to win the Wild Card, but there was no magical run to the World Series as they were bounced by the Phillies. Aside from losing Jason Marquis to the Nationals, the Rockies will return almost the same roster in 2010. They added Jason Giambi to the bench for veteran leadership and power, and they also added Melvin Mora to replace the departed Garrett Atkins, who went to Baltimore. They have young pitching, but that pitching must stay healthy, especially Jeff Francis and Greg Smith. It wouldn't hurt this team to trade for a big-time starter because they could use another arm, but then again, who wants to pitch their home games in Coors Field?
4. Arizona Diamondbacks (2009: 75-87): 76-86
At one time, they had a good, young nucleus and owned this division. They had a great one-two punch with Brandon Webb and Dan Haren. They still have both pitchers, plus they added Edwin Jackson and Ian Kennedy to the rotation. But Webb's health has been rather questionable the last two seasons and he'll be a free agent in 2011. The offense is also very young with Justin Upton, Connor Jackson, and Miguel Montero. They did add former Braves Adam LaRoche and Kelly Johnson to the infield with power slugger Mark Reynolds, one of the better hitters that nobody knows of yet. Key word, yet.
5. San Diego Padres (2009: 70-92): 63-99
So, lets see: No more Trevor Hoffman. No more Jake Peavy. Next up, no more Adrian Gonzalez? Rumors have been swirling around many deals involving the first basemen, including one that almost sent him to Seattle last July. Boston has also been rumored as well being interested in Gonzalez. The Gonzalez trade-watch might be the most interesting thing coming out of San Diego as they are not expected to be anything near competitive. In fact, to go along with Gonzalez, their closer Heath Bell is another one that could be dealt before July if a contender needs a closer or bullpen help. Aside from that, San Diego isn't going to be worth watching in 2010.
National League Playoff Teams: Phillies, Cardinals, Giants, Dodgers
There you have my full predictions for each league and division, plus who I expect to be playoff contenders. From the picks I made, the biggest jumps made were the Mariners, who were in third place in 2009 and picking to win the A.L. West in 2010, and the Giants also going from third in 2009 to N.L. West Champions in 2010.
Hope these were helpful to many of you and I look forward to many conversations and debates about this. I look forward to a fun and exciting 2010 baseball season. Good luck to all of you in your teams baseball season.
Read more New York Yankees news on BleacherReport.com