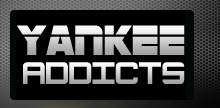 May 17, 2009 · Alan Schechter · Jump to comments
Article Source: Bleacher Report - New York Yankees
As a Mets fan, I am blessed with an interesting life watching baseball, because my wife is a die-hard Yankees fan. Life is interesting, especially around Subway Series time each year.
Be that as it may, we decided we wanted to see both of our new ballparks this year, the year they opened. The first one we were able to work into our schedules for a decent price was Yankee Stadium for the Twins game this afternoon, May 17.
We bought tickets off eBay and off we went. All I can say about the day we had was, what a shame, because I don't think they could have put together a less fan-friendly experience if they tried. So I have decided to give fans an outline of how our day went, just so you know what to expect if any of you are planning a trip to the Bronx.
I did my research before attending today's game. I know that my wife has never been to Monument Park, never went when she was younger, and she has always wanted to go. I went to yankees.com so I could get an idea of when we would need to arrive at the stadium in order to pay the park a visit.
According to the web site, the park is kept open until 45 minutes prior to the game, subject to capacity limitations. After further reading, we find out that the some of the gates open three hours prior to the first pitch, and the balance of them open two hours prior.
So, we get on a train early this morning, come into Penn Station, take a subway, and we are walking through the doors at 11:20 AM. We quickly locate the signs for Monument Park, and begin to walk to our destination.
Shortly after we have walked around the stadium to beyond the right field fence, the time being approximately 11:40, we find out that the Park is closed.
A security guard advises that the line was too long so they have had to stop having fans come in.
As we walk further along the route, another security guard advises that the park was never open, and that is further evidenced by the fact that when we arrive at our seats, still prior to the 45 minutes early mark, there is nobody in the park.
So first, the staff can't get their stories straight, and secondly, they apparently never even open the park. People travel from far and wide to see those monuments, and to not even make them available is shocking.
Now, we move onto the subject of batting practice. When the season opened, the Yankee Stadium rules stated that you had to watch batting practice from your own seat location, that you could not go near the field unless your seat was near the field.
This week, the policy was amended to state that you could watch batting practice from the bleachers and from certain sections on field level, which was a nice gesture by the Yankees.
However, we come to learn that this accommodation is only for Yankees batting practice. God forbid you want to see the other team's stars take BP, this is not allowed.
My wife and I tried to go near the field in one of the approved sections at 11:42 AM, Yankee BP ended at 11:40, and we were rudely told by Yankee security that "this was Yankee policy," and we had to leave.
My wife very politely stated we wanted to go down for about 2 minutes, take a couple of pictures and go, but we were again told we had to leave. So we did.
We were then walking around the concourse on field level, making our way to the first base side before going upstairs to our seats in section 416. As we passed behind home plate, I suggested to my wife to take some pictures from the great angle we are passing by, on our way to our seats.
She takes me up on my idea and walks over to the section behind home plate. She sets up her picture, and literally takes one stride into the aisle of the section. She is not obstructing any seats in the section mind you, just setting up one foot in the aisle, in if you can picture a stance almost like a runner at the blocks, lining up her shot.
The usher not only tells her she has to move, he almost grabs her and moves her out of the way. I was standing there so he was subtle with moving her physically, but you can you imagine how inappropriate that is?
We are standing in the aisle, and here comes the henchmen for the Steinbrenners, taking the enjoyment out of a day at the ballpark which could have been quite fun.
We did make a complaint at the Guest Services department, and we were told that the Yankees "make good" on customer complaints, so we shall see what happens.
Bottom line, don't go early if you are going to a Yankees game. The experience is not a pleasant one, and if you are taking your children, it will not be a memorable experience for them either.