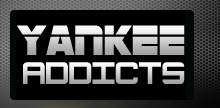 December 6, 2012 · Phil Watson · Jump to comments
Article Source: Bleacher Report - New York Yankees
The New York Yankees won the American League East with a 95-67 record in 2012. But they did so with an aging core of players and have already lost a couple of key free agents this offseason.
Catcher Russell Martin left for the Pittsburgh Pirates. Infielder Eric Chavez signed with the Arizona Diamondbacks. Right fielder Nick Swisher is almost certainly signing somewhere else.
On the injury front, young Manny Banuelos will miss the entire 2013 season after undergoing Tommy John surgery. The rotation's ace, CC Sabathia, is coming back from surgery on his left elbow to remove a bone spur. Closer Mariano Rivera missed most of 2012 with a knee injury.
That's not all. Shortstop Derek Jeter broke his ankle during the playoffs and is still iffy to be ready by Opening Day. Third baseman Alex Rodriguez is scheduled to have surgery on his left hip in January and may not be back until July.
With so few established major-league players currently on the 40-man roster, this list could be subject to change as more veterans may be added to the mix.
Looking ahead to 2013, what Yankees may be due to suffer a regression? There are a few, listed in alphabetical order. The progressions are from the Bill James Handbook of 2013 and can be found at FanGraphs.com.