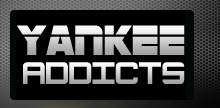 November 21, 2012 · Jay Stone · Jump to comments
Article Source: Bleacher Report - New York Yankees
There's really only so much you can do as a manager of a baseball team to affect the outcome of a game.
In sports like basketball and football, where strategy building and play-calling is essential from play to play, the man they call Skipper has much more of a say. Baseball, however, is a sport where aside from a few hit-and-run calls, the manager can pretty much coast until about the 6th or 7th inning. So he has to make his presence felt elsewhere.
If only the unnecessary addition of the letter "y" to players' names could directly correlate to wins, then Joe Girardi would be a surefire Hall-of-Famer. Unfortunately for "Chavey," "Nuney," "Gardy," and the rest of the gang, however, this is not the case. The reality remains that most of a team's success will be determined in the front office.
With that being said, here are five things Girardi does have control over and could do to help improve the team in 2013.