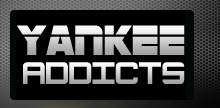 January 6, 2013 · Colin Tansits · Jump to comments
Article Source: Bleacher Report - New York Yankees
As the MLB winter meetings finished up, the New York Yankees walked away in a new, familiar way—without any major players signed.
Aside from re-signing a few older pitchers and picking up Kevin Youkilis and Russ Canzler, New York has done very little throughout this offseason. The Bombers have seen key power hitters Russell Martin and Nick Swisher leave, while Alex Rodriguez has yet to have a surgery on his hip.
As the Steinbrenners insist on getting below the luxury tax, many Yankee fans are seeing a grim picture being painted of an old, overpaid team with little young talent.
Whether or not GM Brian Cashman's hands are tied while trying to sign players, the fact remains that New York is headed for trouble if some things don't change.
Here is a list of five trades that Cashman must at the very least consider if there is going to be postseason baseball in the Bronx.
Although these five trades must be considered, they may be tough to complete.