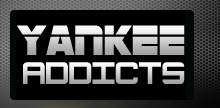 May 7, 2013 · Kenny DeJohn · Jump to comments
Article Source: Bleacher Report - New York Yankees
The New York Yankees have made the playoffs in 16 out of the last 17 seasons, with 2008 being the lone exception, but that's not the only reason why New York is destined to return to the playoffs in 2013.
A slew of injuries scattered throughout both the offseason and spring training put the Yankees in a seemingly insurmountable hole even before the regular season's first pitch was thrown.
Alex Rodriguez, Derek Jeter, Mark Teixeira and Curtis Granderson have all yet to play a game for the Bombers while Michael Pineda has yet to throw a pitch for them over parts of the past two seasons.
A 162-game season can be tricky though as the Yankees are playing as if they have a legitimate shot at making the postseason. At this point in the season, that is technically true for every team—except maybe the Miami Marlins and Houston Astros, of course.
If a few things fall into place for the Yankees this season, there's no reason to think they won't be in the playoffs. Whether it is as the American League East winner or an AL Wild Card remains to be seen, but this Yankees team seems to have a strong chance of playing in October.