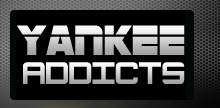 May 16, 2009 · Mac Smith · Jump to comments
Article Source: Bleacher Report - New York Yankees
Alex Rodriguez's walk off home run in the 11th inning of Saturday's battle in the Bronx proves that he is always a threat despite what the numbers may say. That game-ender put an exclamation point on a 4-game win streak for the Yankees in which they have played some of their most consistent baseball all season. In the month of May, the Yankees were 1-5 without A-Rod. Since his return however, they have gone 6-2.
Although Rodriguez did manage to dismantle the Twins in dramatic fashion, that's really all he's done statistically since he's been back. He currently sports a .136 batting average with 2 home runs and 6 RBIs. His stats have been disappointing at best, so why have the Yankees seemed to turn themselves around since his return?
1.Rodriguez brings much-needed defense to third base. With A-Rod back manning the hot corner, fans don't need to hold their breath every time a routine ground ball rolls down the left side of the field. Rodriguez's glove, speed, and arm are major improvements to anything Angel Berroa or Cody Ransom could bring to the table.
2.Teixeira can finally start hitting. Mark Teixeira has struggled in pinstripes. Many believed it was the pressure of the Yankees, the media, and the big contract. Rodriguez's return does two things to help this situation. First, he takes the scrutiny off of Teixeira, and second, Teixeira sees more good pitches by hitting in front of Rodriguez. Since A-Rod's return Teixeira has come up with big hits for the Yankees, culminating in his 4-4 performance on Saturday.
3.Rodriguez is no stranger at getting on base. Although his batting average is low, Rodriguez still draws a lot of walks. This puts a runner on for red-hot Cano and Cabrera at the end of the order, whereas an at-bat from Berroa or Ransom would have been an almost automatic out.
4.His presence is a confidence booster. The improvement in offense and defense allows the pitching staff to relax. Without A-Rod, the Yankees staff struggled due to a serious lack of run support. The Yankees' bullpen is prone to giving up more runs than stopping them. Mentally, it has been difficult for pitchers like Sabathia and Chamberlain to go out knowing they have to pitch seven innings of shutout baseball to come close to getting a win. A boost in the offense brings a boost in confidence for the improving, but still deplorable bullpen. Since Rodriguez's return all the starters have shown vast improvement, even Phil Hughes.
5.Girardi can focus on the bullpen. Joe Girardi has had a lot on his plate. He's had to manage the loss of Posada, Molina, Wang, and Nady. This confusion has definitely added to the Yankees sub-par performance in the field and at the plate thus far. A-Rod's return has stabilized these problems and now Girardi can focus on getting the ball from the starter to Rivera as well as developing both reliever Alfredo Aceves and possible future set-up man Brian Bruney.
As for Rodriguez himself? If his presence alone has brought this much improvement to the ailing bombers it doesn't take a genius to see that he'll come around eventually.