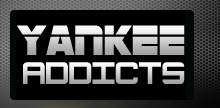 February 8, 2013 · Stephen Skinner · Jump to comments
Article Source: Bleacher Report - New York Yankees
The reports of the New York Yankees demise have been greatly exaggerated and they will win the American League East in 2013.
You heard it here first.
It is true that the Toronto Blue Jays made significant changes this off season, which make them a different team. Will they be a better team? No one really knows for sure except that on paper they seem to have improved their rotation, fielding and speed.
The Yankees, on the other hand, made points out on MLB.com, the American League East Division will be a tight race with most selecting the Blue Jays to finish on top.
This article will give five reasons why the Yankees (who won the most games in the American League in 2012) will repeat as division champions.