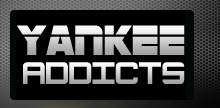 February 18, 2013 · Ryan Clutter · Jump to comments
Article Source: Bleacher Report - New York Yankees
The New York Yankees are going into the season as underdogs in a division they've owned since Derek Jeter arrived in the Bronx.
Age has caught up with them and we're beginning to see some competition from teams other than the Boston Red Sox. Remember the days when it was just Boston and New York battling for the division?
This season, Toronto might have the best team in the history of their franchise, on paper at least. Many are saying the Blue Jays are the team to beat.
Still with the same core of players, the Yankees are being written off and, according to a Bloomberg article, Las Vegas projects them to win 87 games. They haven't won less than 87 games since 1992.
Despite all the talk about the Yankees ride coming to an end in 2013, they still have all the pieces they need to continue to be contenders.
While not making any big splashes in free agency, they have leadership and a winning atmosphere in the clubhouse. For comparison, if the Blue Jays start to lose, they may get rattled, but the Yankees will keep calm all season, no matter what the media is talking about. They've been there before.
Reigning division champions, the Yankees will fight to keep that title.
I don't think it's a stretch to say the Yankees will continue to make the playoffs as usual. Here's some reason why.