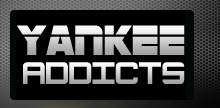 February 24, 2013 · Michael Nargi · Jump to comments
Article Source: Bleacher Report - New York Yankees
Nobody can predict when an injury will occur or which position will be depleted by the consequences of that injury, but being prepared for an injury can go a long way in the success of a team. Curtis Granderson and the New York Yankees found this out all too well as they were delivered a devastating blow on Sunday afternoon.
Granderson, in his first at-bat of the spring, was drilled by J.A. Happ in the forearm in what appeared to be a painful injury. The X-rays would go on to prove this to be the case.
Granderson told YES Network (h/t USAToday.com) that he did not believe that the injury was too serious until he was provided the proof in the way of the X-ray results:
"I didn't think it was (fractured). Even as we got the X-ray, they asked if it was throbbing. I came and saw (the X-ray) myself. It was clear as day."
Jack Curry of YES Network reported that Granderson will be out of commission for 10 weeks, leading many to wonder where the Yankees will go from here. The likely options within the organization will be having Juan Rivera or Matt Diaz play left field and moving Brett Gardner over to center.
In light of what has happened, the Yankees have no one to blame but themselves for their lack of depth. Here are several players the Bronx Bombers could have signed over the offseason.