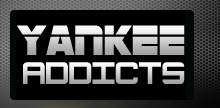 November 27, 2012 · Jake Singer · Jump to comments
Article Source: Bleacher Report - New York Yankees
Free agency is starting to pick up, with Toiri Hunter signing with the Tigers and Mike Napoli making free agent visits this week.
Almost two weeks ago, I wrote about three players the Yankee should sign this offseason.
Now, here are five they should not pursue with the contract demands each are likely to make.
Lohse has had back-to-back solid seasons for the Cardinals, winning a World Series as one of their top starters and excelling all-around.
But to me, his free agency reeks of Carl Pavano all over again.
First of all, Lohse has had trouble staying healthy throughout his career, like Pavano did. He's also already in his 30s (he is 34; Pavano was 31 when the Yankees signed him). And he has only put everything together over the last two seasons. Even with a 3.39 ERA in 2011 and 2.86 in 2012, he has a career ERA of 4.45.
Lohse has done a good job, having his best years before free agency. However, after declining a $13.3 million qualifying offer from the Cardinals, he's probably looking for a contract of around four years and $60 million. Even for the Yankees, who could use a starting pitcher if Andy Pettitte decides to retire (and even if he doesn't), that would be excessive.
Mike Napoli
The Yankees need to make their lineup less reliant on the home run this offseason after struggling to hit with runners in scoring position all season, especially in the playoffs.
Mike Napoli does not fill that need.
For starters, Napoli's on-base percentage dropped to .343 in 2012 as he belted 24 home runs but only had a .227 batting average. He was perhaps even more reliant on the home run than the Yankees were.
He's also not reliable health-wise, after playing just 108 games for Texas this year, or defensively, as he is no longer viewed as a full-time catcher. If the Yankees signed Napoli, he would likely have to split time between first base and designated hitter, but those positions are currently occupied by Mark Teixeira and a platoon of veteran players, respectively.
The Red Sox are pursuing him, but this is one free agent the Yankees don't need to compete with the Red Sox for.
Zack Greinke
Greinke is the best starting pitcher on the market this winter, but he is not worth pursuing for the Yankees. His troubles with depression and anxiety are well-known and don't have to be rehashed, but they're important to keep in mind when considering bringing him to the biggest market in baseball.
I can't deny that Greinke is a top 20 pitcher who could make the Yankees much better. However, he also carries a great deal of risk, will demand a large contract that would complicate the team's plan to bring its payroll under $189 million in 2014 and is not a necessity for this team.
Rafael Soriano
Soriano did an admirable job filling in for Mariano Rivera this season, posting 42 saves and re-establishing the market for him after he opted out of his contract. But Soriano is rumored to be seeking four years and $60 million and the Yankees don't need to be investing that kind of money in a setup man (again).
Mariano Rivera will be back next year, David Robertson should be the eight inning man and the Yankees have more than enough arms to fill in the rest of the innings. Rafael Soriano should be elsewhere.
Josh Hamilton
The best impact bat on the free agent market is also the one the Yankees should not sign under any circumstance.
Hamilton had a great 2012, playing in 148 games (after missing time due to injury the previous three seasons) and belting 43 home runs.
Still, there are several red flags the Yankees must consider. He struck out 162 times this year and the last thing the Yankees need is another Curtis Granderson or Mark Teixeira-type player who hits home runs but strikes out about once per game.
There's also the injury factor, and of course his history of alcohol and drug abuse. He had a minor relapse last winter and no one knows how he would respond to New York. However, it's impossible to say that a 31-year-old outfielder with a history of injuries and off-field issues is not a risk.
The Yankees need to pursue reliable veterans this offseason who will take short-term deals, which counts out Kyle Lohse, Mike Napoli, Zack Greinke, Rafael Soriano and Josh Hamilton.
Read more New York Yankees news on BleacherReport.com