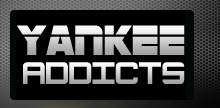 November 27, 2012 · Brian Buckley · Jump to comments
Article Source: Bleacher Report - New York Yankees
During the course of one day while listening to New York's sports talk station WFAN, you will realize many of the fans "know it all". Many times they feel their personal thoughts and edgy hypothesis's about their favorite team, including the Yankees, should be considered scripture.
For anyone that does listen they know that most of the time the proclamations are idiotic and downright laughable. But every once in a while, the Average Joe caller brings a fresh perspective to the table. Sometimes the idea is actually intelligent and downright decent.
So with that in mind, what would happen if those calls to the airwaves actually had some pull? What moves would the fans make if they ran the show?
Follow @brianbuck13 Check Out Sporting Sarcasm