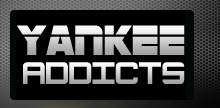 March 6, 2012 · Jacob Misener · Jump to comments
Article Source: Bleacher Report - New York Yankees
23-year-old Michael Pineda has been the target of the firestorm known as New York media since his arrival via trade in mid-January. The New York Post criticized him for showing up to camp pushing 280 pounds, nearly ten pounds heavier than at the end of the season.
The Yankees' front office made it clear that he would earn his spot in the rotation, and nothing was guaranteed. Brian Cashman went on the record, calling Pineda's changeup a "below average" pitch heading into Spring Training.
Following Monday's Yankees' debut, here are five things the reigning American League East champions know about him.
1) He's got work to do.
Pineda's arsenal features a slider that can make the best hitters look foolish. His fastball can range anywhere from the mid to high nineties, topping out around 97 or 98 mph. These two pitches allowed him to dominate during the first half of 2011, going 8-6 with a 3.03 ERA, but as the season progressed, he faded—going 1-4 with a 5.12 ERA.
He broke out last year relying on those two pitches: his fastball and his slider. However, he's not in Seattle anymore, and if he does not develop a reliable third pitch, such as a changeup, the sluggers of the A.L. East are going to make him pay. Sabathia has been working with him on the pitch, and the Yankees need him to continue to develop the pitch in order to be successful.
2) "Potential"
There is no doubt in anyone's mind that this right-hander has potential. But the truth is you don't win championships on potential. You win them on talent. After showing up to camp overweight, Pineda appeared to have a lack of commitment and a weak work ethic, neither of which will be tolerated in the Bronx.
On the other hand, Pineda had a strong Spring Training debut Monday, tossing two shutout innings. He constantly worked ahead in the count, throwing 19 of his 30 pitches for strikes, and allowed only one hit—a leadoff single to Jimmy Rollins. His fastball featured good life, and was blown by slugger Jim Thome to end the first.
Only time will tell which path Pineda will follow. But now that he's in the Bronx, it's "make or break" for this kid. Patience is not something held highly in New York. Good news is, after the A.J. Burnett debacle, there's nowhere to go but up.
3) Nervous? "Hell, no."
When asked if he was nervous for his first start, Pineda replied with "Hell, no." This type of demeanor is loved by New Yorkers, who are accustomed to the Yankees taking it to the rest of baseball. There is no room for timid, shy behavior, and thus far, he seems willing to accept this.
However, Pineda will have to learn that professionalism comes above all else. The Yankees pride themselves on being a class-act professional ball club, and there is no room for personal vendettas, temper tantrums, or anything of the sort. If this kid balances and thrives off his emotions, and channels them into his performances, watch out, New York. Pineda will take the city by storm, and with ace C.C. Sabathia, could lead them back to the Fall Classic.
This has been mentioned countless times this winter. His success comes down to how hard Pineda works, and how well he adjusts to the bright lights of New York. If he embraces the challenge and thrives under pressure, there is no limit to how good he can be. With a circle change to compliment his fastball and knee-buckling slider, he could be the Yankees' No. 2 arm come 2013. Faltering under pressure will not be tolerated, and Yankees' brass has said they will sign a replacement, if needed.
Sabathia, Kuroda, Pineda? Only time will tell if this is a rotation teams will see come October.
Read more New York Yankees news on BleacherReport.com