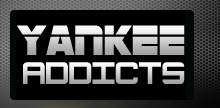 December 21, 2012 · Colin Kennedy · Jump to comments
Article Source: Bleacher Report - New York Yankees
Many would call it slow, but so far this offseason, the New York Yankees have made several moves that the organization will not regret.
Big bats like Josh Hamilton have come and gone.
Zack Greinke and Dan Haren both found homes in the National League.
However, it could be the Yankees who have had the most productive offseason to this point in the winter.
Without spending mounds of cash, New York has been able to retain arguably it's best starting pitcher from a season ago and fill gaping holes at both right field and third base.
GM Brian Cashman vowed to improve the Yankees while still avoiding the impending luxury tax in 2013, and at least so far, he has stayed true to his word.
Players returning from injury like Brett Gardner figure to add depth to a lineup that finished second in runs scored in 2012. In addition to that, veteran leadership in the form of Ichiro Suzuki and Kevin Youkilis should help the Bronx Bombers keep pace in the competitive AL East.
The resigning of Mariano Rivera adds another arm that wasn't available for most of last season, and suddenly the Yankees appear to be in prime position for another title run.
Of course, speculation is easy in December.
And New York will have to prove itself on the field come spring time.
But thus far, any true fan has to be pleased with the organization's offseason moves.
Here are three examples of signings that Yankee fans won't regret.