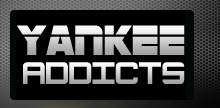 March 31, 2013 · Bobby Provocq · Jump to comments
Article Source: Bleacher Report - New York Yankees
Just after the Super Bowl, my friend Jim asks me if I am going to put together a "Bleach Piece," as he calls it, for Major League Baseball. At the time we were bantering about the expectations for MLB team wins for the 2013 season.
The Yankees were expected to win about 86 games, which would be their lowest number since the beginning of the Jeter era. I said to myself right then, if I were going to make a shock-value prediction in Bleach, it would be that the Bombers end up a puff of pinstriped smoke at the bottom of the AL East.
A couple of weeks later, half the Yankee star power is in the infirmary while Jeter is still limping to the dugout and CC Sabathia is testing out his high mileage, 30-something elbow repair. I go to Baseball HQ (www.baseballhq.com) First Pitch Los Angeles on February 16, and sabermetric spinner Ron Shandler, in a bold prediction of his own, already has the Yanks buried deep in their division.
The luxury tax, for better or worse, has finally trumped the Evil Empire. This is a necessary tank year to save the Steinbrenner brothers from the luxury-tax multiplier. Teams who exceed the threshold the first year pay 22.5 percent of the amount overage, teams over the second year must pay 30 percent, and teams over more than twice pay 40 percent in competitive balance tax. The Yanks have contributed 95 percent to this fund. Only a few other teams have ever exceeded the annual threshold.
I have to wonder what George would have done. The Boss would have found a way. From 2003-2010, the Yankees paid $200 million in luxury tax to put a premium product on the field. He would not have been able for a second to stand at the microphone and introduce Brennan Boesch as his new left fielder. And so the Yankee tradition has been, at best, interrupted.
When one of the tougher roster decisions in the last week of spring training is Juan Rivera or Lyle Overbay, who is left to hate? For Yankee fans, probably Hank and Hal.
Yankees' 2013 Season Record: 79-83
2013 Year-End Individual Awards
AL Comeback Player of the Year—Justin Morneau, Minnesota Twins
NL Comeback Player of the Year—Tim Lincecum, San Francisco Giants
AL Rookie of the Year—Jose Fernandez, Miami Marlins
NL Rookie of the Year—Yasiel Puig, Los Angeles Dodgers (with longshot Evan Gattis, Atlanta Braves, in the money)
AL Manager of the Year—Eric Wedge, Seattle (thanks to Kendrys Morales and Michael Morse)
NL Manager of the Year—Ron Roenicke, Milwaukee (thanks to Kyle Lohse)
AL Cy Young—Brandon Morrow, Toronto Blue Jays
NL Cy Young—Stephen Strasburg, Washington Nationals
AL MVP—Yoenis Cespedes, Oakland Athletics
NL MVP—Matt Kemp, Los Angeles Dodgers
Fantasy Fodder—Long Shots to Impact Every Team
American League
Baltimore—Jake Arrieta
Boston—Allen Webster
White Sox—Dayan Viciedo
Cleveland—Carlos Carrasco
Detroit—Quintin Berry
Houston—Marwin Gonzalez, Josh Fields
Kansas City —Wade Davis
Angels—Kaleb Cowart
Minnesota—Kyle Gibson
Yankees—Eduardo Nunez
Oakland—Sean Doolittle, Derrick Norris
Seattle—Carter Capps, Michael Saunders
Tampa Bay—Chris Archer
Texas—Mitch Moreland
Toronto—J.A. Happ
National League
Arizona—Heath Bell
Atlanta—Evan Gattis
Cubs—Javier Baez
Cincinnati—J.J. Hoover
Colorado—Wilton Lopez
Dodgers—Yasiel Puig
Miami—Chris Coghlan
Milwaukee—Marco Estrada
Mets —Jordany Valdespin and Collin Cowgill
Philadelphia—Dominic Brown
Pittsburgh—Starling Marte
San Diego—Yonder Alonso
San Francisco—Gary Brown
St. Louis—Michael Wacha
Washington—Tyler Moore
Read more New York Yankees news on BleacherReport.com