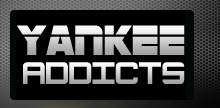 January 28, 2013 · Jeffrey Brown · Jump to comments
Article Source: Bleacher Report - New York Yankees
Ten years ago, second base was a position where fantasy owners could find a handful of impact players, most notably Alfonso Soriano, Jeff Kent and Bret Boone. As hobbyists prepared for their 2003 fantasy drafts, they were able to choose from three fantasy studs who each hit 24-plus home runs and drove in 100-plus runs.
But that was back in the day when there were a lot more players putting up monster offensive stats. Nowadays, in the era of drug testing, not so much.
In fact, as Dave Gonos points out, there wasn't a second baseman who drove in 100 or more runs last year, and there have only been five 100-plus RBI seasons produced by second basemen over the last five years combined. The best second baseman in 2012? It was New York Yankees star Robinson Cano, who hit 33 homers but drove in only 94 runs.
A number of fantasy pundits have complained about the lack of current depth at second base. I guess they are reminiscing about "the good old days," and look upon today's players as chaff. As for me, I don't agree with such pessimism. Sure, there is just one player (Cano) who can produce the kind of stats that Soriano, et al, were capable of producing; but the game of baseball is different today.
In 2002, there were only 16 second basemen who had at least 400-plus at-bats—and combined, they hit 200 homers, drove in 1,027 runs, and stole 242 bases.
In 2012, there were 21 second basemen who qualified at 400-plus at-bats—and combined, they hit 290 homers, drove in 1,300 runs, and stole 297 bases.
So from my perspective, the position may not be as top-heavy as it was, but it may be deeper than it was. And while there aren't as many players who can provide impact stats, there are more players capable of having an important impact on your team's cumulative stats.
Related articles: 2013 catcher rankings; 2013 first base rankings
(Note: if not otherwise attributed, statistics referred to herein as metrics or peripherals were pulled from Ron Shandler's 2013 Baseball Forecaster)