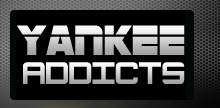 October 7, 2011 · Michael Mill · Jump to comments
Article Source: Bleacher Report - New York Yankees
Yesterdays 3-2 loss against the Detroit Tigers in the ALDS was a difficult one to stomach for Yankee fans across the nation.
The loss put a close on the 2011 season for the club, which once again ended in a disappointing postseason defeat.
Soon the mourning period will subside and it will be time to look towards the offseason.
What needs to happen in New York to get them over the hump in the postseason? What players should stay and who should go? What new blood should be brought in?
There will be plenty of time to discuss it all.
Here is an early look on three Yankees who need to be let go.
1. DH Jorge Posada
It's going to be a painful parting period between Jorge Posada and the Yankees. However, it's about time that the long time Yankee is let go.
Posada has been with the club since 1995, and he has had many fantastic years.
He started just 11 games this season and has clearly become nothing more than a designated hitter for the club.
His paycheck will have to take a huge cut if he is going to stay a Yankee after this season. With Posada at 40-years-old and better players on the market, it may be best to just cut ties.
2. C Russell Martin
Russell Martin sticks out like a sore thumb on this talented batting squad the Yankees have compiled over the last few years.
He batted .237 during the regular season and followed it up with a .176 performance in the ALDS against the Tigers.
Jesus Montero has stepped up and shown signs of brilliance. It seems clear that he will be the future catcher for the club.
With Montero taking over, say goodbye to Martin.
3. P A.J. Burnett
With the exception of C.C. Sabathia, the entire pitching rotation for the Yankees needs a complete overhaul.
It begins with A.J. Burnett.
For the price the Yankees are paying for Burnett, they surely aren't getting results.
Burnett pitched for a terrible 5.15 ERA this season. Considering the talent in the infield of the Yankees, it makes it that much worse.
This 31 allowed home runs was also the worst on the team.
The pitching for the Yankees needs some serious changes. The first one needed is for A.J. Burnett to walk away.
Read more New York Yankees news on BleacherReport.com