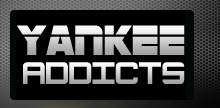 March 5, 2012 · Todd Farino · Jump to comments
Article Source: Bleacher Report - New York Yankees
Mariano Rivera is the greatest closer of all time. Any analysis I do of Rivera will open with that statement.
However, he not the most dominating closer in MLB right now. Last season, I projected Rivera to save 30 games, and he pumped out 44.
This was due to unexpected success by the Yankees and the failure of the American League East to contain them. Rivera was 16/20 in saves against his own division, which the Yankees weren't predicted to win. He was also 100-percent healthy in 2011, and that was a tiny bit of a surprise.
I might be a Yankee hater, but I'm not a Rivera hater. He's a God among men when it comes to closers.
I just don't see how at 42 he can continue to dominate American League hitters with one pitch, the cutter. The last two seasons he's combined for 10 blown saves, which is equal to his previous four seasons combined. His ERA, while still amazingly low, has steadily increased each of the past three years.
So what does that all mean? Nothing. It is impossible to predict anything but the best for Mariano Rivera, but the better question is, when will a collapse, big or small, occur?
With that risk in mind, I've kept my expectations somewhat low for Rivera. While he easily can break 40 saves, my projections have him around 35.
If this is Rivera's last season, he could put it all on the table and be awesome. It's up to the fantasy manager to take that small but ever-present risk.
The Closer Report 2012 Projections
35 Saves, 6 Wins, 2.49 ERA, 1.16 WHIP, 53 Ks
2012 Fantasy Draft Analysis
Right now, Rivera is going where he is expected, around Round 8.
I wouldn't touch him till round 11 or 12. There is much more value later in the draft, and it's probably better to take a SP or a position player in rounds 7-9 than to take a chance on Rivera. It's not a bad pick to take him there, just realize you are taking on a 42-year-old risk.
Read more New York Yankees news on BleacherReport.com