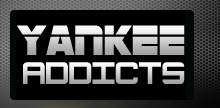 October 7, 2011 · Alison Myers · Jump to comments
Article Source: Bleacher Report - New York Yankees
New York Yankees fans are not easy to please. They have the highest expectations of almost any group of sports fans, regardless of what their team looks like on paper. They're quick to demand the firing or trading of any team member who does not deliver instantaneous results.
Unfortunately, after Thursday night's elimination at the hands of the Detroit Tigers in the ALDS, some Yankees fans allegedly displayed their anger in a different way: disgracing the jersey of the Yanks' beloved captain.
An article on Examiner claims that last night some fans left Yankee Stadium in the Bronx and proceeded to light a Derek Jeter jersey on fire. While this was going on, some people nearby reportedly celebrated the action.
A Twitter account for a New York City tour company tweeted about and posted a picture of the singed jersey that served to back up the Examiner article's claims.
Many Yankees fans expressed their dismay and disgust on Twitter. Some outraged fans, writing in all capital letters, were asking that those who participated in the act disown themselves from the Yankee fanbase. Others were appalled that these so-called fans could take the jersey of a player who has done so much for a team and a city and treat it like it didn't matter, all because of a loss in a division series.
Even though I express my disappointment in my favorite teams or will say a player is doing poorly when it's deserved, I still love my favorite teams and athletes. Disappointment is just temporary, and when spring comes around again, I know I will be eager to plan a trip to Yankee Stadium and cheer the Bronx Bombers to another World Series.
Surely, there are ways one can express disappointment that don't involve lighting a jersey on fire and risking others' safety.
But out of all players to take out one's disgust on, why would you choose Jeter? No, he didn't set off any fireworks during the ALDS, as he went 6-for-24 with a .250 batting average. Even so, he still wasn't as bad some of his teammates who couldn't hit their way out of a paper bag (Alex Rodriguez, Mark Teixeira and Nick Swisher, I'm talking to you).
And in case you forgot (you really didn't, did you?), this is the player who has been part of so many great moments in Yankee history. He was a part of the 1990s dynasty under Joe Torre, and he was the one who dove into the stands to catch a ball and came up bloodied and bruised, willing to make an ultimate sacrifice for his team. This is the guy who's never had an ego and placed the team over his individual needs and desires.
It wasn't even that long ago that we saw him hit another milestone, as he earned his 3,000th career hit in July. He was celebrated then with a long standing ovation from the crowd and even the Yankees' opponent that day, the Tampa Bay Rays. DJ3K, as the hit became known, merchandise sold like hotcakes after the game and in the days following.
But because the Yankees lost in the first round of the playoffs for the first time since 2007, a few fans—I mean, fools (because I can't call them fans at this point)—decided none of what Jeter has done before matters. It's all of a sudden acceptable to stand in the streets of New York and set his jersey on fire.
Maybe LeBron James deserved it in Cleveland, but he is not in the same class as Jeter by any means.
What went on after last night's loss was unacceptable. But I also believe that the actions of a few should not be used to paint everyone with a broad brush. I can say that I've interacted with many Yankee fans, whether they are my friends, strangers or blood relatives, who would not act in such a manner after a loss. There are so many of us who are fiercely loyal to the Yankees but can also handle disappointment.
I just wonder what kind of Yankee fan you call yourself if you think it's OK to destroy memorabilia that celebrates the captain and face of the franchise.
Read more New York Yankees news on BleacherReport.com