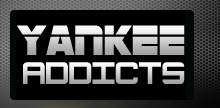 October 7, 2011 · Doug Rush · Jump to comments
Article Source: Bleacher Report - New York Yankees
Before the game on Thursday, it looked like everything was lining up in favor of the Yankees. They had won Game 4 on the road against the Tigers 10-1, with A.J. Burnett.
They were heading back to Yankee Stadium for a Game 5.
And they had Ivan Nova on the mound, who hadn't lost since June 3.
But, two solo home runs off Nova by Don Kelly and Delmon Young in the first inning, and an RBI single by Victor Martinez in the fifth inning off CC Sabathia, gave the Tigers all the runs they needed and knocked off the No. 1-seeded Yankees, 3-2.
The Tigers beat the Yankees again in the ALDS, just like they did back in 2006, and now the Tigers will travel to take on the current American League Champion Texas Rangers in the ALCS, starting Saturday.
What went wrong for the Yankees in the series?
Quite a bit, unfortunately.