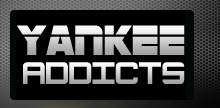 October 1, 2011 · Andrew Jordan · Jump to comments
Article Source: Bleacher Report - New York Yankees
After the suspension of Game 1 of the American League Division Series between the Detroit Tigers and New York Yankees due to rain, we will see this game get completed today, weather pending.
Despite having only nine outs and one hit recorded so far, Game 1 was looking like it was going to be a classic until play was postponed.
Today, the Yankees will bring out 24-year-old Ivan Nova, who will be pitching in his first career playoff start after going 16-4 this season. The Tigers will counter with Doug Fister, who too will be pitching in his first playoff start after playing for the Mariners for the past three years.
This rain delay certainly throws a wrench into the plans that Major League Baseball had for these playoffs, but the weather will force the Yankees to determine how their starting pitching will look like for this series.
Going into this series, the Yankees decided that CC Sabathia was probably going to pitch two times in this series and the Yanks were going to go with a four-man rotation.
Meanwhile, the Tigers have made their rotation in a way that Verlander will be pitching Game 3 and it would be Fister who would start twice if the opportunity came to him. Since he came to the Tigers at the end of July, Fister led the AL in ERA and ranked second to Verlander in wins.
Due to the uncertainty that the Yanks have with their starting pitching, the Tigers have an advantage in that department right now.
Now it does appear that Sabathia will try to convince Joe Girardi that he can pitch in Game 2—but after throwing 27 pitches in the first two innings and continuing to warm up in the tunnel during the rain delay, Girardi does not seem to want to put Sabathia on the mound for Game 2.
Girardi told the media, "Just because when you're talking about a real heavy bullpen, this is more than a bullpen. And it's not the right thing to do."
Going into this start, Sabathia was given nine days off and did look sharp despite giving up an opposite-field home run to Delmon Young. But still, it is hard for any pitcher to be fresh enough in any circumstances like this, let alone for a playoff game.
Of course, anything can happen between now and the start of Game 2, but it is unlikely that Sabathia will start the game.
The Yankees would be better poised to use Sabathia for Game 3 against Verlander in Detroit, but numbers from recent seasons do not support Sabathia at Comerica Park.
Sabathia has lost his last four games in Detroit, with three of those losses coming against Verlander. Sabathia has not won at Detroit since May 26, 2007 when he was still with the Indians.
Right now, the case of CC Sabathia is a hurdle that the Yankees will need to somehow clear if they are going to advance onto the ALCS for the third straight year.
The Yankees have to pick their poison with Sabathia, and it looks like any decision the Bombers will make could easily backfire.
For more news on the MLB Playoffs, follow me on Twitter @Andrew_Jordan
Read more New York Yankees news on BleacherReport.com