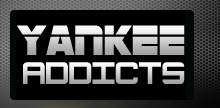 October 1, 2011 · Dan Renfro · Jump to comments
Article Source: Bleacher Report - New York Yankees
Pitching wins championships.
That's the age-old cliche when October rolls around. Past all the sabermetrics, new statistics and cliches, pitching remains true.
However, it doesn't necessarily mean you need the best pitching staff.
The Philadelphia Phillies have three of the top 10 pitchers in the league, but that doesn't mean we should hand them the title.
The New York Yankees have a stud in CC Sabathia. He should able to win all of his starts, and he's a workhorse. As a result, he will have no problem starting three games in a seven-game series.
At the end of the game, the Yankees have Mariano Rivera. He is the best closer of all time, and he continues to dominate hitters. When you can shorten the game to seven or eight innings, you stand a much better chance of winning.
Even though pitching is a big deal, hitting becomes that much more important. Accordingly, runs need to come in bunches. When the weather gets cold, pitchers get into grooves. Doubles and home runs will get them out of those grooves. The Yankees play in a small park, and they know how to knock the ball out when it matters.
They have some serious power in their lineup, and they can put up some crooked numbers. Nothing is more demoralizing than allowing a team bat through their lineup in a single inning.
The Yankees have the ability to score a bunch at once, which forces teams to go to their bullpen earlier. In turn, the Yankees can wear down any pitching staff.
With a workhorse leading their staff, a closer to shut games down and a lineup capable of exploding at any time, the Yankees have the best chance to withstand the cold that will come in late October.
Read more New York Yankees news on BleacherReport.com