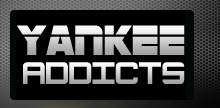 October 1, 2011 · Richard Langford · Jump to comments
Article Source: Bleacher Report - New York Yankees
The Yankees need to give Mother Nature a high-five after her performance in Game 1 in their series with Detroit. The score was tied 1-1 when the rain halted play in the second inning. The game will resume on Saturday.
Impact of Rain Delay
This is going to seriously alter a pitching rotation that both teams spent the end of their season manipulating to ensure they could get their best pitchers the most starts in this series.
Neither the Tigers' Justin Verlander, nor the Yankees' CC Sabathia will be able to start on Saturday. And this will likely move every pitcher up one start.
Why This Benefits the Yankees
Plain and simple, this benefits the Yankees because Sabathia is not as good as Verlander. That is no knock on Sabathia. Verlander is just that good. He is the likely AL Cy Young winner, and he has been so good that he will even get consideration for the MVP.
Here is Verlander after the rain stopped in Game 1, as quoted on ajc.com: "It was a little disappointing. Now I've got a start Monday to look forward to start getting prepared for that."
If Verlander is indeed pushed all the way back to Monday, which seems likely, then that will almost assuredly be his only start of the series.
Any time you can miss a Justin Verlander start, it is a good thing.
Of course, there is always the possibility that Mother Nature will interfere again, and further delay this schedule, but as it stands now, the Yankees should be counting their lucky stars.
Schedule
Game 1: Tigers at Yankees on Saturday, October 1st at 8:37 p.m. EST
Game 2: Tigers at Yankees on Sunday, October 2nd at 3:07 p.m. EST

Game 3: Yankees at Tigers on Monday, October 3rd at 8:37 p.m. EST
*Game 4: Yankees at Tigers on Tuesday, October 4th, time to be determined

*Game 5: Tigers at Yankees, October 6th, time to be determined
*if necessary
Read more New York Yankees news on BleacherReport.com