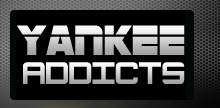 February 10, 2010 · Jon Schuman · Jump to comments
Article Source: Bleacher Report - New York Yankees
The Yankees were not content to enter the 2010 season with the same team that won the 2009 World Series.
The Yankees decided to let World Series MVP Hideki Matsui walk, decided not to dish out the cash to bring back Johnny Damon, and dealt starting centerfielder Melky Cabrera to the Braves.
However, the Yankees new imports may outshine those who were let go. Nick Johnson was brought in to fill the DH role vacated by Godzilla, Randy Winn will try to fill Damon's shoes in left, Curtis Granderson was obtained to take over in centerfield, and Javier Vazquez was acquired in the Cabrera trade to hold down a spot in the rotation.
The final result is a 2010 team that may be stronger than the 2009 World Championship squad. As always, anything less than another title would be a disappointment to Yankees fans in 2010.
Let's take a look at the 2010 New York Yankees