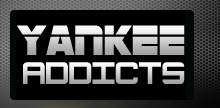 February 23, 2010 · Evan Fein · Jump to comments
Article Source: Bleacher Report - New York Yankees
As Mark Teixeira grabbed the last out of the 2009 regular season, I screamed and applauded vigorously. As a lifelong Yankee fan, I have been spoiled by five championships and seven pennants in my lifetime. I got up early the next morning to buy my overpriced championship merchendise and I thought to myself "now what?" That was an easy question: "Gear up for a repeat!"
Months later, I am impressed and delighted by the moves the Yankees have pulled off. Brian Cashman spent money carefully and intelligently. Sure he didn't get Roy Halladay, but he acquired several other great players while keeping Joba Chamberlain, Phil Hughes and Jesus Montero in pinstripes. It also appears as if the payroll will go down in the process. Let's take a look at some of these moves.
Andy Pettitte resigned for one-year, $11.75M : This is actually about the same as his 2009 contract, only the money is guaranteed and not tied to performance incentives. Yes, Andy is getting older, but he still has the potential to post a 4.00 ERA in the American League East. Since it is a one-year deal, the risk is low.
Curtis Granderson acquired for Ian Kennedy, Phil Coke and Austin Jackson: This three-way trade with the Diamondbacks and Tigers was an absoloute steal for the Yankees. In Granderson, they got an outfielder with huge upside who could hit 35 or even 40 home runs at Yankee Stadium.
He has problems hitting lefties, but he's young, fast and has a great arm. If you take into account age and park effect, Granderson is slightly better than Damon offensively and lightyears ahead defensively. And he comes at a price of only $24M over three years. In this lineup, he will see more pitches to hit and not strikeout as often.
Every player the Yankees gave up in this deal is expendable. Ian Kennedy has injuries and would likely be a backup starter at most. Phil Coke, the lefty in the bullpen last year, can be replaced by Damaso Marte. Austin Jackson was overrated as a prospect and barely has any power.
Could Jackson ever be as good as Granderson? Maybe in a few years. More than likely though, he would turn out to be an average player or even a bust. The New York Yankees don't keep "works in progress" in their lineup for multiple years.
Nick Johnson signed for one-year, $5.5M+incentives: There is some risk to this signing, as Nick Johnson is injury prone. Hideki Matsui has more power than Nick Johnson and is a slightly better hitter overall. But I still like this move.
Johnson has one of the highest OBP's in the major leagues and is a great fit for the lineup. When Jeter leads off the game with a single, I see Nick Johnson easily moving him over to third base with less than 2 outs. Keep in mind, Johnson also comes at a lower price than Matsui and can also play the field if necesarry.
(I'd just like to note that I consider Granderson as Damon's replacement and Nick Johnson as Matsui's replacement. I can't figure out why many media outlets report it as the other way around)
Javier Vazquez and Boone Logan acquired for Melky Cabrera, Mike Dunn and Arodys Vizcaino : I wasn't too sure about this deal initially, given Vazquez's first campaign in New York. But on further examination, it was necesarry. The Yankees are heading into the 2010 season with several question marks in their rotation.
A.J. Burnett is always a health risk, Andy Pettitte is old and there's always controversy with Joba Chamberlain and Phil Hughes. If you look at their rotation, it's pretty clear that they needed one more solid guy who can eat innings and pitch effectively. Taking a chance on Ben Sheets or another crapshoot would not have been smart in my opinion.
In Vazquez, they have arguably the best No. 4 starter in the MLB at $11.5M and a guy who can pitch a big game when needed. I don't expect him to compete for the Cy Young Award as he did with the Braves last year, but I feel much more comfortable with him in the rotation. As for Boone Logan, I personally doubt he will amount to much.
Mike Dunn has no real value to the Yankees. Arodys Vizcaino could be a decent pitcher in several years, but would have just been used as trade bait anyway. So what about the Melk man? Well, he was very popular in New York and showed signs of improvement, but did the Yankees really need him? Probably not.
He is better than Bret Gardener offensively but not by much. With Gardener, you lose about 10 home runs and maybe 20-25 OBP percentage points, but you get a much better defender and one of the fastest players in the game.
Given everyday playing time, Gardener could actually turn into a solid hitter. Melky will be missed, but Vazquez is a must for the rotation this year. Next year the Yankees will likely look to acquire Cliff Lee.
Other Acquisitions: (Randy Winn, Jamie Hoffman, etc.): Nothing too exciting here. The Yankees still have a fairly weak bench, as Cashman didn't want to exert too much payroll here.
Signings Not Made: (John Lackey, Matt Holliday, Jason Bay, Johnny Damon, Hideki Matsui): I'm very glad the Yankees did not sign Holliday or Bay. They are overrated and the Cardinals and the Mets will regret handing out those contracts. John Lackey would have been a decent signing, but there was no need to sign a pitcher to a huge contract this year.
Johnny Damon priced himself out of the market and lost millions because of it. Matsui, despite his World Series MVP, just isn't a good fit for this team anymore.
Overall I am very excited about the 2010 New York Yankee season. Their outfield and rotation was upgraded significantly and there was no big decline at any other position. Keeping the payroll down this year was a good idea, as the Yankees will have to pony up the big bucks to re-sign legends Derek Jeter and Mariano Rivera next season.
Even the Yankees with their huge payroll need to be wise about how they invest that money. Some Yankee fans wanted to make bigger moves this year. But keep in mind that less now, means Mauer (aka signing C Joe Mauer next offseason, for those of you that did not get my drift) later.
What do you think? Do you like the Yankees offseason moves?
Read more New York Yankees news on BleacherReport.com