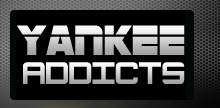 April 9, 2010 · Zac Fluewelling · Jump to comments
Article Source: Bleacher Report - New York Yankees
2010 MLB POWER RANKINGS
1.New York Yankees : The Yankees have three things going for them that no one else does: They are the richest sports team in the world, they are the World Champions, and they have the best team in baseball. The one notable negative for the Yanks is that they play in the AL East with two other teams who made the top five.
Biggest ?: Can Curtis Granderson produce like he did in Detroit and will Brett Gardener do enough with his legs to make up for his lack of power in left?
2.Philadelphia Phillies: The Phillies have arguably the best lineup in baseball, and with the addition of Roy Halladay they may have the best one-two-punch in the NL. Cole Hamels should be able to get back in form, and J.A. Happ will look to be solid again after posting a 2.93 ERA last season.
Biggest ?: Who is going to be able to close out games? Brad Lidge just went on the DL today with the likes of Joe Blanton and J.C. Romero. Lidge was off and on last year, so even if he was completely healthy this is still a question that needs to be answered.
3. St. Louis Cardinals : I almost moved the Red Sox in front of Cards after seeing them be shut out through 4 innings against Carl Pavano. Then Matt Holiday and Colby Rasmus went for back-to-back jacks after Pujols singled. Then I remembered why I put them here. If Carpenter and Wainwright can carry the pitching staff, Holliday should be able to give Albert enough protection to win the NL Central with ease.
Biggest ? : Can Carpenter give enough to this team to help them all year and can Ryan Franklin really keep playing at this high of a level?
4.Boston Red Sox: It's a shame, the Red Sox have the best rotation in baseball and they still might not have enough to win their division. The addition of John Lackey gives the Red Sox the best No. 3 pitcher in baseball, but do they have enough offense? Ortiz came back strong last year after his terrible start but still only hit .238. I love the trade for Victor Martinez last year, and expect a huge year, but they still need one more power guy.
Biggest ?: When the Red Sox realize that they need to make a move, who will they get? They couldn't land Adrian Gonzalez, and may not this year. So who will it be?
5.Tampa Bay Rays: If this young team, full of studs, were in any other division in the AL they would be the favorites to win. Unfortunately they are in the same division as the Yankees and Red Sox. B.J. Upton should play better than last year and Carl Crawford is in a contract year so look for him to have another great year. Evan Longoria will look to give A-Rod a run for his money as the best third baseman in baseball and put up MVP like numbers.
Biggest ?: How will newcomer Rafael Soriano handle the closer role and will Wade Davis and David Price pitch well enough for the Rays to keep up with the big dogs?
6.Seattle Mariners: Cliff Lee is set to start the year on the DL and could miss most if not all of April. The Mariners should still be able to hold off the rest of the West until Lee gets back and go on to win the division. Chone Figgins will give the Mariners another excellent run producer to match with Ichiro. Look for Franklin Gutierrez to improve on his power numbers from a year ago (.283/17/70) as he will be counted on to produce more runs.
Biggest ?: Will Cliff Lee come back without missing a beat? Lee has been lights out and Seattle is counting on him to comeback fully healthy and help King Felix lead them to the playoffs.
7.White Sox: Bobby Jenks is said to be in great shape and should be able to anchor the best bullpen in baseball. Matt Thornton and former closer J.J. Putz look can fill in if Jenks gets to shaky for manager Ozzie Guillens liking. Throw in Scott Linebrink and you have four flame throwers who Mark Beuhrle, Jake Peavy, Gavin Floyd and John Denks can hand the ball to. The acquisition of Mark Teahen is very underrated. This allowed the White Sox to move young Gordon Beckham to second and sure up their middle.
Biggest ?: Can Paul Konerko and Andruw Jones produce well enough at their 1B and DH positions for the White Sox to contend? Ozzie Guillen and GM Kenny Williams have enough to worry about in each other— they don't have time to look for another power hitter.
8.Detroit: If it weren't for my confidence in Miguel Cabrera to anchor a lineup, the Tigers would be much further down this list. Justin Verlander is an ace and Rick Porcello showed he is big league ready last year by registering 14 wins and a 3.96 ERA. Jose Valverde is a good closer and he will have plenty of opportunities to prove it with this solid pitching staff. Johnny Damon gives the Tigers a better overall hitter than Curtis Granderson, but with a lot less speed.
Biggest ?: Can Austin Jackson make up for the speed that Detroit lost in Granderson? Jackson should be able to play a decent centerfield, but he will need to do more to make the Tigers a contender.
9.Colorado: Ubaldo Jimenez is starting to become an elite pitcher and will continue to scare hitters that face the Rockies ace. The Rockies have a great core of good young players. With a great mix of power and speed the Rockies could give the Cardinals and Phillies a run for the best record in the NL.
Biggest ?: Aaron Cook and Jimenez have proved they can pitch at home but who else will step up? Jeff Francis is back and has looked good in the spring throwing 5 scoreless innings his last outing. They will need him to make it any higher in the rankings.
10.Los Angeles Angels: Many people are overlooking the Angels this spring for several reasons. Their age, loss of Lackey, power— whatever it is, I don't care. Mike Scioscia has shown he can manage with the best and I assume this year will be no different. Kendry Morales will be key for this team, as they will need him to produce similar numbers as he did a year ago (.306/34/108). I believe Tori Hunter and Bobby Abreu have plenty left in their tanks and Hideki Matsui should be able to give them some more power and protection.
Biggest ?: Who will take Lackey's spot as the ace of the rotation? Jared Weaver, Ervin Santana, and Joe Saunders are good and Scott Kazmir should have a good year, but can anyone carry the staff if need be?
11.Atlanta Braves: Jason Heyward hits shots! Can he hit for average and get runs across too? Hanson and Jurrjens are lights out and will bolster the rotation. The Braves are sneaky good.
12.Chicago Cubs: Soriano, Soto, and Zambrano all better have good years or the Cubs will be falling faster than the Dodgers team salary.
13.Milwaukee Brewers: The Brewers have undoubtedly one of the best offenses, their pitching will be the question.
14.San Francisco Giants: The Giants could be a team who will quickly move up these rankings. Anything is possible with Lincecum and Cain.
15.New York Mets: The Mets, as usual, look like they don't have a clue. Still, they have too much talent to be any further down this list. Get Reyes in the lineup!
16.Minnesota Twins: Twins name Jon Rauch today, and he should fill in nicely considering the circumstances with Joe Nathan. The Twins always seem to stick around in the playoff mix, but their rotation will need to prove they can handle the load before they go any higher here.
17.Florida Marlins: Josh Johnson is a stud and will be a losing streak stopper, I'm not sure this lineup can produce enough runs to stay above .500.
18.Los Angeles Dodgers: Ownership issues will eventually effect the play on the field and who knows which Manny is going to show up? Randy Wolf will prove to be a bigger loss than people realize.
19.Cincinatti Reds: Cueto and Volquez have two of the best young arms in the game, throw in Aroldis Chapman and the Reds could have something. Time will tell.
20.Arizona Diamondbacks: The D'Backs have some offense, and should have three great pitchers in Dan Haren, Edwin Jackson and Brandon Webb. When Webb can pitch!
21.Texas Rangers: They can hit for power and steal bases, I just don't trust their starting pitching. Look for Neftali Feliz to move into the closers role or begin his move to a starter.
22.Houston Astros: The Astros are blessed with a great outfield with Hunter Pence, Carlos Lee, and Michael Bourn, however their infield is lacking especially with Berkman's injury questions.
23.Toronto Blue Jays: The Blue Jays are rebuilding but they have good young pitching and a solid bullpen. The tough division will lead to a lot of losses for the young guys.
24.Oakland Athletics: If Oakland had the Red Sox staff, they couldn't get to .500 with this offense. Kevin Kouzmanoff is penciled in to be the cleanup hitter. Good luck with that.
25.San Diego Padres: For the time being they still have Adrian Gonzalez. As soon as he is gone the Padres move into the bottom three.
26.Baltimore: Look for the Matt Wieters show to begin. The O's don't have enough surrounding the young catcher but they could be worse off.
27.Kansas City: Good news for the Royals. Sccording to these rankings they won't be finishing in last place. I could see the Royals moving up if Billy Butler and Alex Gordon can make a stir.
28.Cleveland Indians: I like Grady Sizemore a lot this year, but I don't see any way this team can get enough people around him to produce.
29.Washington Nationals: Really? You are going to start the season with Strasburg in the minors?
30.Pittsburgh Pirates: The Pirates will be rebuilding and have some good players, but for now it looks like a split-squad team.
www.FantasyBaseballSportal.com
Read more New York Yankees news on BleacherReport.com